Add Saint Martin's University Community Halloween to your Halloween adventures. This free event is slated for Saturday from 1:00 to 3:00 p.m. at the Charneski Recreation Center, Parson's Hall and Spangler Hall.
An annual tradition since 2008, this event (formerly called "Halloween in the Halls" and the "Pumpkin Cup") combines carnival excitement with trick-or-treating in a joyful environment.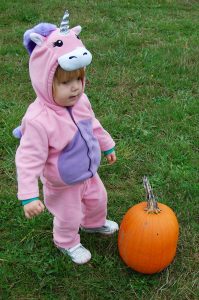 "It's our effort as an institution and an office to really reach out, give back to the community and provide a safe environment for children to celebrate the Halloween holiday," says Tim McClain, Saint Martin's University director of housing and residence life and assistant dean of students. "It gives the kids an opportunity to engage with our students who are now members of this community, our students an opportunity to welcome others here, and it gives the community an opportunity to see what we do, who our students are and the good work that they do."
Originally, Tim brought over the idea from his days at Seaton Hall, a university in New Jersey. The Saint Martin's event was started in a more limited form in 2008 as the "Pumpkin Cup," and was primarily an activity for the children of Saint Martin's's staff members. It has taken several forms since that time, but by and large, it has been a consistent event for nine years.
The event, open to all children in the area, now draws more than 300 children a year, with 50-plus students volunteering their time to hand out candy and help with a carnival put on by Saint Martin's University's Campus Life.
"The carnival is at the same time as the trick-or-treating, and people can flow between the two," says Katie Wieliczkiewicz, director of campus life. "We realize that trick-or-treating isn't for everyone, so this offers guests something different. Every child is different. Some prefer the door-to-door activity while others want something more activity-based and competitive."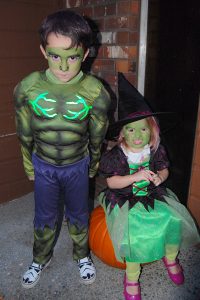 Using two residence halls, both with elevators for accessibility, children have the opportunity to ask for treats from students living in the residence halls, who have been provided thousands of pieces of candy for the day. The pace will be determined by a child's individual needs instead of in a group as it has been in the past.
For many visitors, Community Halloween has become an annual tradition.
"Our family has been going for a few years and it's always fun for our daughter," says Vernon Randolph. "We enjoy the decoration throughout the halls, students dressing up and really enjoying themselves, giving candy out and the safe environment. It's nice to see Saint Martin's University giving to the community."
Jamie Nixon, another past attendee, says, "I've taken our children to Community Halloween at Saint Martin's University for the last few years. It is one of our favorite University-sponsored events. The students are always so excited when they open their doors and see the kids in their costumes. My kids love seeing how creative the students are with their costumes and decorating their doors, as well. The students are really aware of the younger-aged children and never dress too scary."
"We love the generosity and hospitality that is exhibited by the University in sponsoring this free community event – the candy tote bags are great and we always end up using them for trick-or-treating in our neighborhood as well," continues Nixon. "There is usually way more candy than my kids can eat! It is a great alternative, given that the majority of the event is indoors."
Another new feature to this year's event is the Teal Pumpkin Project, which helps make Community Halloween more inclusive
"We never turn away a kid," says Residence Director Janie Sacco. "Sometimes a 16-year-old will come with their younger siblings, and that's great. We also are participating in the Teal Pumpkin Project, which provides small toys for kids with food allergies because we are trying to be very accessible. We want as many people to be able to participate as possible. If you need a place that's safe for your kids to go trick-or-treating or for whatever reason you are not able to get out and do that for them, we have that opportunity here, and it's open to anyone in the area."
Surprisingly, Saint Martin's University's Community Halloween can also help with the stresses University students face this time of year. "Seeing the interaction between our students and the kids is fun. How enthusiastic our students are about meeting the kids and seeing them in all of their costumes is adorable, and our students love it," says McClain. "I think it's a great means to having a mid-semester breath of fresh air. The students can just experience joy over the course of a day, put the stress of college to the side and really engage with these kids."
With smiles on their faces and hospitality in their hearts, the students of Saint Martin's University are sure to put on an amazing event for all who attend.
There will be a photographer available for free photos, and the first 200 kids will get a free, reusable Halloween trick-or-reat bag.
Community Halloween
Saint Martin's University
Saturday, Oct. 29, 1:00 p.m. – 3:00 p.m.
Sponsored