It's 4:30 p.m. on Saturday and your child just sustained an injury on the soccer field. Is it broken? Should you head to the ER? Should you wait it out? Starting on October 24, these questions can be answered by the trained professionals at the new Olympia Orthopaedic Associates Rapid Orthopaedic Care clinic, or the ROC.
Located in the Hawks Prairie area of Lacey and adjacent to The Ram, the ROC is open seven days a week for walk-in patients. Whether your injury occurred on the sports field, on the job or simply when you tripped on a curb, you'll be seen quickly by orthopaedic experts.
When an acute orthopaedic injury occurs, most people experience a costly and time-consuming trip to the ER and eventual referral to Olympia Orthopaedic Associates (OOA). Start at the ROC instead. Patients are in and out quickly, often within 30 minutes and most insurance plans are accepted, charging you in most cases, simply for an office visit.
Meet the ROC Providers
Lynn Page has been a Physician's Assistant for 19 years with 16 focused in orthopaedics. Backing up her clinical experience, Page has three bachelor's degrees – sports medicine, exercise science, and physician's assistant. But more important than the degrees on the wall are Page's true love of sports medicine and urgent care for athletes of all ages.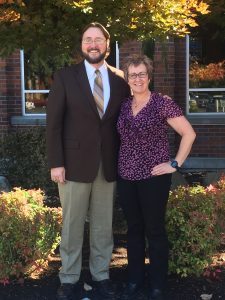 An athlete herself, Page has completed numerous marathon and triathlons including three full Ironman Triathlons. Next up for her is the 2017 New York Marathon which she will run with her daughter and mother, celebrating milestone birthdays of 20, 50 and 70 years.
"My true love has always been sports medicine," says Page, "and the ROC is a perfect fit, pairing my urgent care experience and my orthopaedic background. It's a great mix."
Page believes every active person is an athlete in their own way. "I enjoy treating patients to get them back to what they love, whether that is on the field, doing boot camp classes or an activity in the outdoors like hunting," she says. "I have a strong passion for helping other maintain a healthy lifestyle."
Clint Miller has an equally long commitment to orthopaedic and urgent care, along with some unique trainings under his belt. Miller was born in Eugene, Oregon, but grew up in Oklahoma.
Married for 16 years with two children, Miller has returned to the South Sound recently. He has been a Physician's Assistant for over 16 years with the majority of that time in orthopaedics. "I just happened into PA studies," he says citing his early interest in medicine and dentistry. "And, well, I'm actually a dentist, too," he says with a smile.
This surprising combination of skills pulls from his life-long love of working with his hands. "I grew up in the country and always liked to work with my hands – welding or working with wood." He also played baseball and football in his youth and maintains an active lifestyle as a fisherman and outdoorsman.
In Oklahoma City, Miller worked with an orthopaedic group offering urgent care. In Dalls, Miller worked in a clinic where the doctors cared for professional, college, and high school athletes. His sideline and clinic experience give him strong diagnostic skills aiding rapid assessments for ROC patients.
"I'm excited that we'll be providing easy access to orthopaedic care, helping people avoid waiting at the ER for something we treat and treat routinely," he says.
What the ROC Offers 
Patients at the ROC will find short wait times, extended hours and specialized orthopaedic care. Alongside PAs Miller and Page, medical assistants and radiology technicians see patients between 10:00 a.m. and 7 p.m. seven days a week, making it a convenient option when injuries happen.
Clinic manager Stephanie Berry is excited for the ROC's potential and has worked hard to ensure it meets the community's needs. "My main role is to manage the daily operations of the clinic," she shares. "This includes staffing, supplies and ensuring the patient experience is smooth and efficient." Berry was instrumental in planning the layout of the facility, getting people in and out quickly.
ROC patients have access to on-site casting, splinting, x-ray and physical therapy. The clinic is also located adjacent to Olympia Orthopaedic Associates Physical Therapy at Hawks Prairie. The PT clinic is open Monday through Friday from 9:00 a.m. to 6:00 p.m. and, with a connecting door to the ROC, therapists can work directly with ROC patients throughout the day.
"We are very focused on getting orthopaedic needs taken care of, or quickly diagnosed, so patients can begin to heal or gain access to a higher level of care within OOA for additional orthopaedic needs," explains Sarahbeth Bilyeu, Director of Clinical Operations.
In addition to deep orthopaedic knowledge and direct connection to the surgeons and specialist within OOA, ROC staff know how to quickly and effectively handle workplace injury claims, helping patients with referrals and next steps. "Our staff can really take the burden off the patient in organizing their next step, something a visit to the ER really can't do," continues Bilyeu.
Next time you turn your ankle, fall on your wrist or your child goes down in their Saturday game, turn to the Rapid Orthopaedic Care clinic for urgent care, specifically focused on orthopaedic and sports related injuries.
OOA's Rapid Orthopaedic Care Clinic
8140 Freedom Lane NE
Lacey, WA 98516
360-754-ROCC
Sponsored