If you have been to a local golf tournament, corporate event or high school game, chances are you have seen the work of Budd Bay Promotions & Apparel. Budd Bay has been in the business of promotion since 1996. Over the past twenty years the business has evolved and so have John and Lynn Grantham, owners of Budd Bay Promotions & Apparel.
I sat down with John Grantham in their new location on Martin Way in Lacey to discuss the unique services that Budd Bay has to offer. Budd Bay is a full-service provider of logo apparel and promotional items. John and his wife Lynn both have extensive sales experience. Their expertise combined with an in-house design and production team makes them uniquely qualified to provide everything from team and corporate apparel to a full range of specialty items to promote corporate events.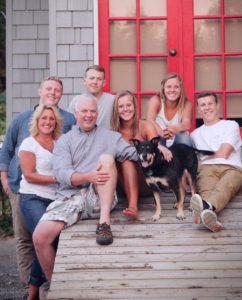 The showroom houses an impressive display of just a small portion of what Budd Bay can provide. Budd Bay can source over 500,000 different promotional items. John showed me the extensive array of items they recently produced for a local casino. John and Lynn can look at your budget and design a program for mass exposure with items like pens and bags to specialty items for a smaller target audience.
Need a logo? Bring your ideas to Budd Bay and their artists will work with you to create unique design concepts. Budd Bay will then incorporate the art into a logo ready to promote your business. Perhaps an existing logo needs an update. Many examples of these reworked and updated logos can be seen on a variety of merchandise in their showroom or on their website.
Most recently Budd Bay designed the new logo for North Thurston High School. A labor of love, the Granthams have five children currently attending or who have graduated from North Thurston Public Schools. Their impressive client list includes many of the schools in Thurston County – from their district employee needs to their sports teams and clubs. At any given time Budd Bay has about 10-12 online "stores" available for audiences to purchase logo wear for various schools and organizations in Thurston County. The couple is thrilled to provide this service allowing customers to combine individual orders which will then be processed and shipped together saving the customers money by purchasing and shipping in quantity.
The success of Budd Bay isn't limited to Thurston County. When the US Open was hosted at Chambers Bay Golf Course in Tacoma, the demand for US Open hats and shirts was unprecedented. Under Armour, one of the contracted suppliers, could not respond to the demand quickly enough and reached out to Budd Bay to fill the gap. "It was a big job and definitely a feather in our cap to be able to be a part of a high visibility event such as the US Open," John tells me.
Budd Bay has also provided embroidered uniform and commemorative patches for state agencies, and sport teams including the Triple A affiliate Tacoma Rainiers. The patches are used to signify important achievements such as winning a championship. "The Rainiers were pleasantly surprised that a local company in Olympia could be so competitive," says Grantham.
After many years in California working in the Silicon Valley, John and Lynn have enjoyed working in the more collaborative Thurston County. As members of the Lacey South Sound Chamber, Gateway Rotary and several youth sports leagues, the Granthams appreciate the networking opportunities available in the area. A good mix of private and public industry aids in their success. "In addition to several national clients, our local customers range from casinos and financial institutions to local state agencies and school districts," says John. "We have enjoyed working with a wide range of great professionals."
Working and living in Thurston County the Granthams have been very involved in the community. John has coached his active children in many sports from football to fast pitch softball. Lynn has been involved in helping to pass school levies for North Thurston Public Schools. Their commitment to the students of the district is evident in the art displayed on the walls of their showroom. As North Thurston Public School Partners in Education (PIE), Budd Bay creates canvasses from the calendar of student art. As John tells me, "For many students this is the first type of recognition they have ever had. It's a big deal for them a lot of fun for us to participate."
Visit their one-of-a-kind showroom on Martin Way and see what they can do for your business.
Budd Bay Promotions & Apparel
6715 Martin Way East
Lacey, WA 98516
360-709-0483
Sponsored