It was a breakthrough year for the Black Hills High School girls soccer team last season.
Powered by the program's all-time leading scorer, Joslin Lindsay, the Wolves claimed another 2A Evergreen Conference championship, but, more importantly, notched their first ever state playoff victory in the school's 18-year existence.

The team had been 0-7 in state playoff games, including losing in the first round the previous two seasons.
That all changed after defeating Highline, 6-4, in the opening round. Joslin Lindsay found the back of the net five times in the victory, pushing Black Hills into the quarterfinals for the first time. They eventually saw their season come to an end courtesy of defending state champion Squalicum, which outscored opponents 15-0 during its run to a second straight title last year.
Despite the loss, it was the culmination of a great four-year run by last year's seniors.
What would the Wolves do for an encore?
"They either could choose the path of entitlement, and just expect everything to be easy based on what they did last year," said Black Hills coach James Corbin, who lost four first team all-league players, including, daughter Jaylen Corbin, to graduation last year, "or they could choose the path of coming together as a team and working hard to improve."
Behind a deep and talented group of juniors and several incoming freshmen, the Wolves opted for the former and have picked up right where they left off last year.
As the regular season winds down Black Hills finds itself on the cusp of another postseason appearance. The Wolves have a 12-2 record with their only conference loss coming against rival Tumwater.
Leading the way has been juniors Emma Lindsay (Joslin's sister), cousins Sydney and Megan Lowe and Bella Brown.
"The difference between last year's team and this year's team is last year we had a little bit more individual talent," Corbin said. "This year we have more of a team atmosphere."
And it's a team that is actually on pace to surpass last year's high-powered offense in scoring.
The Wolves scored an average of 2.6 goals per contest in 2015, finishing with 55 goals in 21 games. This season they are right at 3 goals per match, netting 42 goals through their first 14 games.
"We just keep scoring goals, but more players are scoring goals this year," Corbin noted. "We don't have one player teams can focus on. They can focus on Megan, which I've seen a couple teams do because she was coming out and scoring lots of goals and was dangerous. Then (freshman) Jordyn (Bender) scores, then Sydney scores and it just keeps going."
It's the team mindset that has the Wolves believing they can improve on last year's accomplishments and continue to build on the program's winning tradition.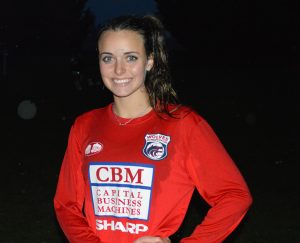 "I think we're connecting a lot more as a team and as a program," Megan said. "We're really into being a program instead of being separated by varsity, JV and C-team. We're there for each other on and off the field. We want to make everyone feel like they have a spot."
Despite losing so many high-caliber players from last year's roster, the Wolves weren't required to start totally from scratch this year. Sydney Lowe and Brown, both three-year starters, were each first-team all-league selections as sophomores.
"Bella Brown is without question the heart of this team. She has such a gifted skill set," Corbin said. "Sydney's just an incredible young athlete. She can run at top speed with the ball on her foot. There's not another player in the league or that we've played that can do what she can do. Sydney is a vital piece of our attack. She's able to create a lot of different things on offense for us."
Emma Lindsay and Megan Lowe each received honorable mention recognition last season.
"Megan has found her identity as far as being in an attacking role," Corbin said. "Emma is always going to be just a scrappy player up top for us. She picks up the simple things and creates opportunities for us."
With 15 freshmen in the program, including starting goalkeeper Devin Herbert, more is being asked out of the four juniors off the field as well as they were required to add team leaders to their resume.
"At first it was scary because we've always had someone in that older sister role above us, but it feels like we need to be leaders now," Emma Lindsay said. "I feel like we've all taken on a much larger leadership role. We're trying to push the younger players and they're pushing us to work harder too."
That relationship has added up to wins on the field for Black Hills.
"It's important for the older Wolves to have that connection (with the younger players). They have to be mentors," Corbin said. "They also want to leave a legacy for these young ladies."
Last year's state quarterfinals was foreign territory for Black Hills. The Wolves lost 6-0 to a Squalicum squad that was colored with experience.
"That was new for us. We had never been there before," Sydney said about last year's second-round appearance. "(Losing) definitely makes us work harder to improve. Last year's state playoffs were the most fun I've ever had playing. We want to get back there again and improve on how we did. We're growing as a team and as individuals. It's exciting."