Who doesn't like a bargain? Whether you have never ventured into a thrift store or are a veteran "thrifter" like me, thrift-shopping is an ideal way to look for some treasures while finding great deals. Thrifting has gained popularity in recent years (cue the Macklemore song) as a way to not only save money, but to be eco-friendly and find unique merchandise you won't see anywhere else. From like-new kids' clothes to toys to vintage housewares, there's something for everyone. Even better, many shops support local charities.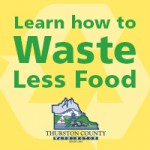 With the rainy season upon us, this self-proclaimed thrifting addict hit some of our local stores to see what's new (or "new to you"). Thurston County is home to more than a dozen shops, each with a unique focus and mission. From large operations like Goodwill to small, tucked-away gems, each offers a magical world of discovery. Part of the fun is that the selection is constantly changing. Kids can peruse toys and parents can find great deals on kids' clothes, housewares, and more.
Another fun idea? Used thrifted craft items, art supplies, and knick-knacks to join in the "repurposing" trend and create artistic masterpieces together.
Why not gather up the kids and take them to treasure-hunt at one of these places? If you haven't hit a thrift store in a while, you'll be surprised to see how well-organized and shopper-friendly today's stores are. Cruising the aisles together can make for quite a fun afternoon – you will probably find yourself quickly addicted, like me.
Here are some of my favorite thrifting spots around town:
Olympia
Lacey
Emmit's Thrift: A truly special thrift shop, this new store (opened in August) is run entirely by volunteers. All proceeds go to help the critters at Emmit's Magic Animal Rescue, and you can even visit the store's rescued Guinea pig. Murals of rescued animals line the walls, and you'll have fun browsing the clothing, accessories, and books. They offer a $5 "fill a bag" special.
Value Village: Known to thrifters as "the Village," Value Village offers clothes, many toys, books, housewares, and more. They partner with local charities such as Community Youth Services for drives, and are known for being generous in the local nonprofit community.
Yelm
A variety of home building materials are available for purchase at Habitat Stores in Yelm and Olympia.

DC's Treasures New & Used: Worth the drive out to Yelm, DC's Treasures New & Used is a true thrifter's delight. The small store is packed with great deals on kids' books, toys, clothing, collectibles, and more, all at truly bargain prices.

Habitat Store: South Puget Sound Habitat for Humanity's building supply store also has a location in West Olympia. At both locations you can find a wide variety of building materials and home furnishings including doors, windows, lighting, appliances, furniture, cabinets, and more.  They also accept donations.
Across Thurston County
West Olympia Goodwill employee Eden works at hanging donated clothing on racks, providing the next budget-minded fashionistas with new-to-you options. Photo credit: Gale Hemmann.

Goodwill: You will find Goodwill stores from West Olympia to Yelm. Goodwill supports a great job training program, and offers excellent tag sales. For the truly serious thrifter, there is also Goodwill Outlet on Martin Way, where treasures can be purchased by the pound (best for adults). Goodwill retail stores offer $4.99 "fill a bag" toy bins, which ensure lots of fun (toys can easily be washed at home).
Another great way for families to spend time together on rainy days? Gather up some quality items around the house and donate. Check with each store to see what they are looking for.