Plenty goes into one of Terry Shaw's practices, but no aspect for the Rainier High School football coach is quicker or easier than roll call.
The Mountaineers only feature 19 players on their roster this season – not even enough to do a full scrimmage at practice. When Shaw does a walkthrough to showcase the upcoming opponent's offensive sets, assistant coaches are needed to step in just to provide his starters with a complete look.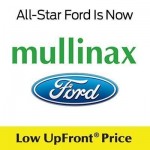 The small numbers, however, have added up to some big results this season.
Rainier, which has only four seniors, is 6-1 and has already secured one of the 2B Central League's playoff spot.
"We only have 19 kids, but like I've told everybody all year we have the right 19 kids," said Shaw, whose squad opened the season with five consecutive wins before dropping a close 12-7 contest to Adna. "It makes some things a little more difficult, but at the same time the kids get a lot of reps. We can only play 11, but the other team can only play 11 too."
Seniors Brayden Lasher, Nathan Anderson and twins Devan and Dillon Stancil do much of the heavy lifting for the Mountaineers, both on and off the field.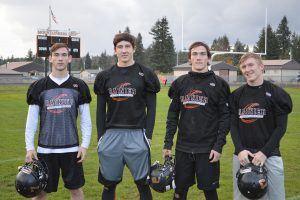 "There's leadership and then there's guys who can really influence a team, and all four of these guys in their own way have done that," Shaw said. "I want every kid to be a leader, but you have to lead in a way that's fitting to you as an individual. What Brayden brings to the team is very different from what Devan brings, and what Devan does is very different than what Nate does, and what Nate does is different from Dillon. That's what I want from them and all four of them have been crucial to this program's success."
The senior class hasn't always been this small. The numbers dwindled every year since their freshman season, leaving the remaining four to shoulder the load in 2016.
"Last year was supposed to be our good year, but it didn't quite turn out that way," Anderson said about the Mountaineer's 5-5 campaign in 2015. "A bunch of players didn't turn out this year because they didn't think we were going to be any good. A lot of people told us this year that we wouldn't have a chance. Our schedule is going to be too hard and we're not even going to win a game."
They were correct about Rainier's schedule. It is stacked, featuring four teams that advanced to the state playoffs last year, including eventual runner-up Napavine, but the Mountaineers needed just the first week of the season to prove those who thought they were going to struggle this year wrong as Rainier knocked off North Beach, last year's undefeated league champion, 31-0.
"It kind of clicked at our football camp in July," Devan Stancil said about when the team started to realize their potential. "Once our first game happened we started to think we could do something special. After week two everyone on the team was all in."
As the wins piled up so did the team's confidence.
"It's kind of weird. Every other team that we've played has had 30 guys on the sidelines," Dillion Stancil said. "When I look toward our side we have eight standing there. We don't really have any subs. We all play both sides of the ball. We've always on the field."
With no depth and a majority of the starters going both ways, injuries loom even larger for the team. One challenge for Shaw is limiting contact at practices, while keeping his players interested.
"We don't do a whole lot. We have a couple sessions where we do eight or 10 plays live and that will be it," Shaw said. "We get creative with the way we organize our practices, tackling, blocking sessions, team and indy time, it's worked out pretty well to keep us healthy."
Already guaranteed a postseason berth – they can finish no worse than third in their league – the Mountaineers have bigger goals, like advancing to the state tournament for the first time since 1992.
"We just need to keep focusing on what is in front of us," Shaw said. "Our goal has been daily improvement. And even after we get done winning, which we have won six times this year, the players say, 'We could have played better in the fourth quarter.' They're always looking to improve. It's a reflection of the four seniors. They have just been awesome in leading the other guys."
Rainier remains in the chase for a league championship. They travel to Napavine on October 21 to close out their league slate before playing their regular season finale at home in a non-league game against 2A Washougal on October 28
"We're just out there playing our hearts out," Lasher said. "We're a family."