The sun of summer has set and the leaves have changed from green to a deep, autumn orange. Pumpkin spice lattes are warming the hands of fall enthusiasts and the rain boots have replaced many beloved pairs of flip flops. We are knee deep in the season and with the weather changing, many people develop the indoor blues. There is plenty to do during these months with the whole family that only require a positive attitude and in many cases, an umbrella.
The first activity on our list includes a beautiful drive across the county to view fall foliage. The Thurston County Bountiful Byway takes drivers through tunnels of trees shimmering in their autumn colors with stops including wineries, farms, and breathtaking lookouts. It's a great option for the days where a raincoat just won't be enough to weather the storm.
If you're willing to drive a little further, one of my favorite fall day trips has to be the beach. I know you're thinking the beach is for the summer months, but our coastline is so dynamic it's worth a visit during every season of the year. There are many options for coastal towns to visit but Westport is one of the most reliable spots to storm watch during the breezy fall months. Twin Harbors State Park is perfect for beachcombing and building a fort from the driftwood that washes ashore as there are no cars allowed on the pristine sand. All of that fun at the beach can really build up an appetite. For delicious food and family friendly pirate ambience, dive into Blackbeard's Brewing Company. Their wide variety of seasonal beers on tap and mouth-watering pizza is enough to please any member of the family.
Families full of energy after being cooped up from the weather will enjoy some of the amazing fall hikes through our community parks. Explore the diverse landscape we live in by foot. Whether it's through waterfront Tolmie State Park or the forested, muddy trails of Watershed Park, there are family friendly hikes for every age in varying length.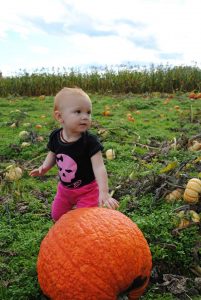 When the rain decides to let up, don't pass up on the opportunity to check out the wide variety of pumpkin patches across Thurston County. Even if you don't plan on purchasing a pumpkin to carve, these locations can bring thrifty family fun with hay rides, corn mazes, and tromping through the mud in your favorite pair of boots. Two of my favorite stops are Hunter Family Farm to visit the wide variety of animals and Lattin's to enjoy a warm cup of seasonal cider.
If your family is looking for a spookier option this month, nothing says family fright like a haunted house. My Morbid Mind, located in Lacey, brings out the blood-curdling screams of anyone who dares to enter. Discounted tickets are offered on Thursdays for $11 and the price rises to $14 on the weekends. On October 29, 2016 and October 31, 2016, the lights turn on for the youngest members of the family to take part in the spine-chilling experience for only $3.
Warm up with the kids in the kitchen by creating some fall treats to share. Visit the Olympia Farmers Market for the freshest, locally sourced ingredients to create their own show-stopping seasonal meals at home.
Crafting is a popular indoor option during these colder months. Collecting fallen leaves to stencil on paper or painting mini pumpkins are great go-to options. If you are looking for something different to create with the whole family, visit Tenino's Swans Candle Supplies to create candles that are not only beautiful but also needed during upcoming stormy nights. They boast a wide variety of colored wax and aromatherapy that can be added to any candle.
Strap on those rain boots and zip up your coats to enjoy everything Thurston County has to offer for fall fun.
Thrifty Thurston highlights inexpensive family fun in Thurston County. The weekly series focuses on family-friendly activities throughout our community. If you have a suggestion for a post, send us a note at submit@thurstontalk.com. For more events and to learn what's happening in Olympia and the surrounding area, visit our complete event calendar.