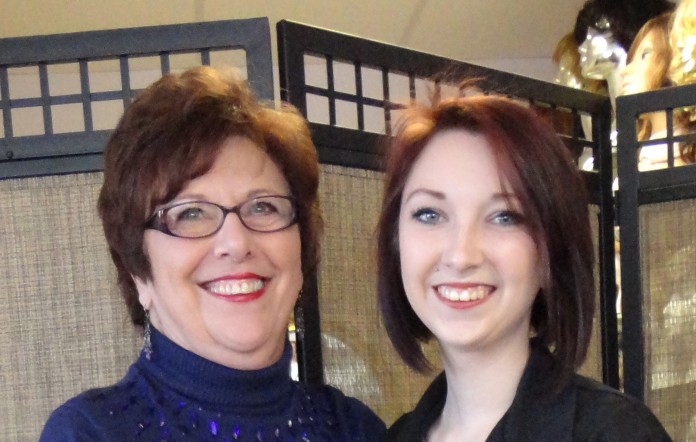 If Cheers is the bar where everybody knows your name, Merle Norman is the place where everybody knows your skin type, hairstyle preferences, and favorite type of massage.
"I can get everything taken care of in one spot," says Kimberly Bauman. "All of my little quirks are in their computer system. When you're there, you feel like you're the most important person in the world."
Bauman is one of many clients who takes advantage of the multiple services that Merle Norman Cosmetics, Wigs and Day Spa has to offer. "It's not just Merle Norman cosmetics," says Madelin White, who has owned the spa for 42 years.  "We have hairdressers who do everything imaginable for your hair. We also do manicures and pedicures and several people who do waxing. My tagline forever has been 'One-stop-shop to Beauty.'"
Additionally, the salon does a high volume of wig sales, and not just for cancer patients. "We have people come in who hate their hair," she says. "They may have had bad perms or bad haircuts. Then there are people who just love to wear wigs."
Bauman was first attracted to the spa by its free makeovers. "I told them what my issues were.  They had a wide range of products and the knowledge to back them up," she says. "They set me up with cleansing and moisturizing products in addition to make-up." Previously, other products had always made her skin itch, but now she wears make-up every day.
She also visits stylist Linda Divine, who operates Divine Creations within the spa. Veronica Goddard owns Taming Medusa and Hair by Amy is run by Amy De La Cruz, who also offers manicures and pedicures. "Our hairdressers are amazing," says White. "They've all been in business for over 25 years and they keep up with everything."
Bauman agrees. "I love Linda's services. She's very attentive and listens to what I want and need."
While attending a Lacey Chamber of Commerce event, Bauman heard massage therapist Don Harkcom speak and was impressed by his knowledge. Harkcom's Massage Therapy also operates at Merle Norman's Lacey location. "I thought I would try him," she says. "Now I use him for massage. I've been dealing with fibromyalgia and chronic pain for years. Usually when I get a massage, I can't walk for two or three days.  He asked me a lot of questions about my pain and was able to really help with that. Don communicates very well about what's going on with your body."
Having all of these services available adds up to one memorable experience, says Bauman. "I feel much better every time I go there. By the time I leave, I feel beautiful." 
Visit Merle Norman Cosmetics, Wigs and Day Spa online or call 360-491-4911.
Sponsored