We have all been there. We've lost a few pounds or gained a few pounds. The baby has graduated to toddler status and your oldest shot up like a weed and no longer fits the clothes and shoes it seems you bought yesterday. Now, you have a pile of usable clothes you no longer need. Maybe you got a new couch or entertainment center, but what do you do with the old one?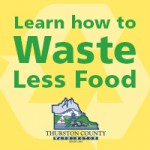 Do you throw away perfectly good clothes, shoes or furniture? Luckily, in Thurston County, the community has joined forces with social media and created the Buy Nothing Project. Originating in the Puget Sound area, the Buy Nothing Movement is a money-free Facebook community sharing group designed for locals to share a variety of items they no longer need.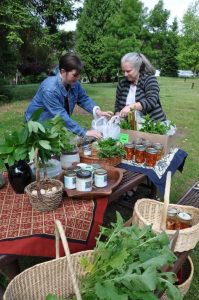 Co-founder Rebecca Rockefeller is an alum of The Evergreen State College. She says a desire to reduce their carbon footprint, and an excess of kale, sparked a movement.
"It turns out Liesl's shady garden is great for kale and other greens all summer long, while my sun bowl of a backyard is better at basil and cucumbers and other heat lovers," says Rockefeller referring to her neighborhood swap of produce. "We decided she would grow what worked best in her garden and I'd grow what worked best in mine, and we'd supply each other with what we couldn't grow. A year of that led us to thinking that we should open this way of feeding our families up to the rest of our community, so we started this thing we called Bainbridge Barter."
After a brief hiatus, some people began to wonder what happened to the barter group and the idea of cashless swapping sparked an idea. "We could start a Facebook group and give this stuff away – not just food and garden bounty, but everything, using that same gift economy ideal." Two weeks later Buy Nothing was born. One year later there were 300 members and now, three years later, there are over 280,000 members in 18 countries.
Though it is a closed group, joining is as simple as asking. Where you live in Thurston County dictates which group you join so no one has to travel outside their relative neighborhood. You may be able to search on Buy Nothing + the name of your town, but as groups grow, they will divide and often be named after parts of town or neighborhoods. The easiest way to find your group is to go to Buy Nothing's website and use the Find a Group page.
To engage with the Buy Nothing Movement, find something you don't need any longer that you would want to share with someone. Post and wait. Anyone interested in your post will leave a comment. For items in high demand, like a Fitbit, givers will sometimes ask receivers to pick a number or even tell a story as to why you should be the chosen one. If there happens to be an item you need or you just want to check the group before you buy something you can put out an "ask." Items such as play clothes for kids, coffee makers, crab pots and even kayaks have changed hands simply by asking the group.
Often you will see posts from neighbors who are in true need of help. Victims of house fires, floods and burglaries will ask for replacements for the lost items. Everything from clothes for the whole family, to mattresses, to furniture for the living room are given freely to those in need. These are the types of stories you'll come across that really reflect what a special place Thurston County is to live.
You can also ask for or offer up services to the group. For example, a while ago there was an impressive windstorm that affected Western Washington. Sara Games of Buy Nothing Olympia East group posted pictures of her hobbled back fence. With a husband fighting cancer, Sara asked for someone to help her with materials and ideas for fixing the fence. Much to her surprise, some Buy Nothing do-gooders showed up to assess, salvage, and repair the fence. She posted how incredibly grateful she was proclaiming, "Gratitude!!!!! I'm just blown away…"
There are certainly a number of interesting items available in the Buy Nothing communities but there are also many good deeds to be done. People in need have free access to whatever is available within their local group. Communities are coming together to share their excess rather than waste what they don't need. The willingness to give and help is something participating in.
Check out the Buy Nothing Movement in your Thurston County neighborhood because you never know, someone nearby might just want that old barbecue or weight bench collecting dust in your garage. Someone might just use that model pirate ship to decorate their sailboat, I did.