Celebrating 70 years of providing stellar legal services in South Sound communities is something the law firm Althauser Rayan Abbarno, LLP (formally Olson Althauser Samuelson & Rayan, LLP) takes pride in because they know how much it means to the countless families they have helped over the years. Founded in 1946, the law firm has six attorneys practicing in a plethora of areas, including family law, criminal defense, estate planning/probate, property, business/corporate law and injury practice. Partners Todd Rayan and Peter Abbarno have made it their business to prove that when you get injured at work or in an automobile collision, you don't need to search for a lawyer outside your community to get proven results.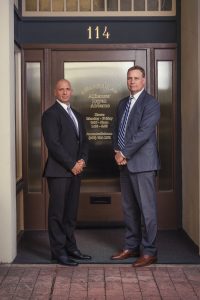 "There is this myth or perception that small town law firms don't have the resources to represent catastrophic injury cases," Todd Rayan shares. Nothing could be further from the truth.
If you're injured, you might think you need to look for an attorney in Seattle and Tacoma, but that's not true at all.
"When you walk into our office – you are receiving more than 70 years of combined injury law experience at your doorstep," Peter Abbarno explains. "Each one of our conference rooms and workstations are equipped with cloud-based programs and video conferencing capabilities to serve our clients from Washington to Florida, from Spokane to Long Beach. We have clients not just statewide, but countrywide. We have handled cases from the minor low impact rear-end collision to wrongful death and catastrophic brain injuries. We have handled defective highway design cases to complex workplace injuries resulting in permanent disfigurement and even death."
Who They Are
Their Centralia and Olympia offices employ some of the most highly educated and experienced lawyers in the counties they serve. The current staff of lawyers has over 70 combined years of experience.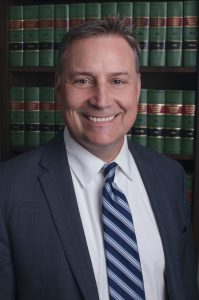 Todd Rayan is one of the partners at Althauser Rayan Abbarno. He graduated cum laude from Seattle University School of Law in 2003. Since then, he has served as pro tem judge, been a Secretary and Treasurer of the Lewis County Bar Association, an adjunct professor at Centralia College in the BASM program and is on the board of directors for the Historic Fox Theatre Restorations. In both 2012 and 2013, Todd was named by his peers as a Super Lawyer, the only attorney in Lewis County to be honored with this prestigious title.
Peter Abbarno, another partner, earned a Juris Doctor from Vermont Law School in 2008 and a Master of Laws in Taxation from University of Washington in 2009. Peter worked as a Deputy Assistant Prosecuting Attorney in King County and a staff attorney with the University of Washington's Federal Tax Clinic before joining Althauser Rayan Abbarno. Peter has been president of the Lewis County Bar Association and currently is a Centralia City Councilman. He also serves on the board of directors for the Centralia College Foundation and Boys and Girls Club of Chehalis.
Both lawyers focus on providing large-firm resources and small-firm attention to give their clients above-and-beyond service.
The Separation is in the Preparation: Equal Access to Justice
It is the people you hire to make your case for you – to fight your battles – that really matter. Althauser Rayan Abbarno's mission statement is to provide equal access to justice and fairness, which means you have a lawyer who truly cares about you regardless of the size of your case.
Todd and Peter are focused on providing everyone access to justice and information. Their Facebook page includes useful and practical information about workplace injuries, automobile collisions, criminal defense issues and other information for the community. For example, check out their free glove box card to help victims of automobile collisions. And since community is so important, they also keep you updated on their involvement, including the fun they have with their Centralia Youth Soccer team during practice. Peter's wife, Holly, coaches the team.
Althauser Rayan Abbarno proves that, in this case, local is better. Peter shares, "I get teased by some friends and called an 'ambulance chaser.' The reality is that when a person is injured by no fault of their own, they just want medical treatment and fair compensation. It is inherently inequitable when an innocent person has to negotiate with a multi-billion dollar insurance company adjuster. Althauser Rayan Abbarno evens the playing field and fights for every right and benefit that person and their family deserves."
One of the ways Todd and Peter stand out from larger firms is by treating each case as if it is going to litigation. Although many personal injury cases are resolved prior to trial, Althauser Rayan Abbarno believes in going the extra mile to ensure that insurance companies know that they will fight for the rights and benefits of their clients. "Our firm has settled several multi-million dollar cases throughout the years involving wrongful deaths and traumatic injuries," Todd shares. "We are able to do that by preparing our cases early and knowing our clients."
Even if that means more work for them.
"For example, when we have a case on liability, we have already done this enough to where we know exactly what the jury instructions are for that kind of case," Todd says. "So, we start to build our case and our binders at the outset. Then, if it does have to go to litigation, we aren't starting from scratch. We put in the legwork all along."
This, Todd explains, often leads to receiving higher value for personal injury cases because the insurance companies recognize they are not afraid to take a case to trial. It also allows them to be immediately ready to go to trial, if needed. The firm wants to settle your case, but doesn't want to settle for the sake of settlement. If settlement offers are not reasonable, they want to be ready to hit the ground running.
Ahead of the Curve: Technology and Experts
In addition to staying on top of the latest cases and information, Althauser Rayan Abbarno have set themselves apart from other firms by constantly upgrading their equipment to stay up-to-date on the latest technologies within the office. But, Todd says, their most important resources are the people that use technologies to help them win cases for clients. "We want to stay ahead of the technology curve to better serve our clients," said Todd.
"We employ experts, especially in our injury practices, who use technology. A good example are the forensic engineers who retrieve data from vehicle accidents," Todd shares. "Most firms either don't understand this technology or they don't have the contacts or resources to properly access it, something that is vitally important in some cases. When you represent a high number of workers compensation and personal injury clients like we do, you build a wealth of contacts and experts that other attorneys who dabble in personal injury don't have."
Another aspect, especially in large cases, is to have the resources to secure the experts and materials required to prepare your case. "It is not uncommon to advance tens of thousands of dollars on a case before you ever see a penny in recovery," Todd says. "It is hard to find firms able and willing to do so, we are."
While the office covers more than six areas of law, each lawyer at the firm has a different concentration that they focus on and this was not an accident.
"We wanted to create a productive culture where we don't compete with each other for cases," says Peter. "If a divorce or custody case comes in or a criminal case comes in, two associates are not fighting over the case and receipts. We want to make sure that at the end of the day, we work well and play well together. We are a team, and like any team, we all row in the same direction. The law can be a very competitive field and we understand that, we don't need to compete with ourselves."
Though Todd and Peter focus their practices on injury law and offer free injury consultations to people injured at work or due to the negligence of others—like an automobile collision, they work with other attorneys in the firm to staff and prepare a variety of cases. "It helps to staff cases and have a sounding board to discuss issues and strategies with," says Todd. "Often times another set of eyes or a differing viewpoint will unveil something that wasn 't previously fully considered," adds Peter. "We do this routinely, firm wide. Essentially each client in every case has six attorneys looking at their case and we think that adds value for the client," says Peter.
This camaraderie is important to clients. Althauser Rayan Abbarno prides itself on its small-town roots and wants to make sure clients can get an attorney on the phone or meet face to face.
The firm continues to grow without compromising their community focus. Last year they opened an office in Olympia, to better serve the needs of their clients in northern counties including Thurston, Pierce, King, and Snohomish. For more information about Todd Rayan, Peter Abbarno or any of the other attorneys in our firm visit Althauser Rayan Abbarno's website or call their offices at 360-736-1301 (Centralia) and 360-352-1134 (Olympia).
Sponsored