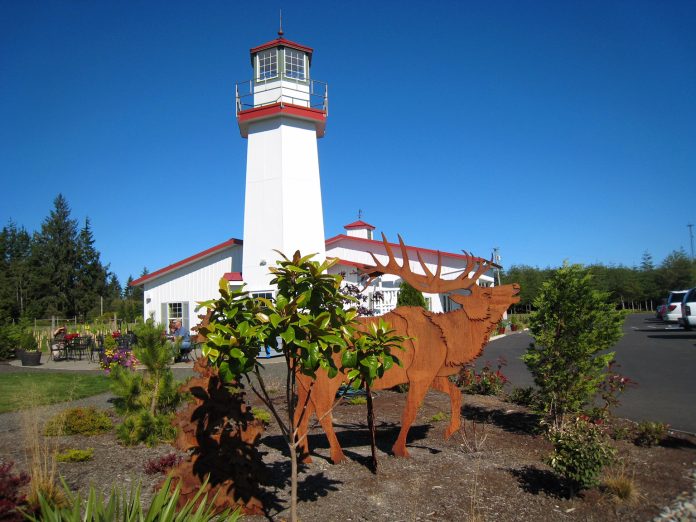 Submitted by Westport Winery Garden Resort
Several years ago Westport's Director of Winemaking, Dana Roberts, made a small batch of a rosé version of Duckleberry Grunt. For years his fans have clamored for its return. Today, their wish is answered, as the winery releases True Blue. This unique blend of rosé of Syrah with Oregon blueberries hits all the marks in happiness and health, filled with antioxidants and fabulous fresh fruit flavor. 
The label continues to feature winery founder Blain Roberts' St. Bernard Koko. Appropriately, a portion of the proceeds from this wine benefits North Beach PAWS. A sculpture commemorating this wine (and featuring Koko's likeness) is being created by Clallam Bay artists Lora and Kim Malakoff. The unveiling date for this outdoor art has yet to be determined.
Westport Winery was named 2011 Washington Winery to Watch by Wine Press Northwest. They have been voted Best Winery by King 5 Evening Magazine for six of the past eight years. They were named the Best Washington Family Business Silver Medal winners in 2012, received the Grays Harbor Environmental Stewardship Award in 2015, and were name Best Winery, Best Wine Shop, and Best Boutique Winery for 2016 by South Sound Magazine.
What they call "The Mother Ship", Westport Winery Garden Resort, is located on the corner of Highway 105 and South Arbor Road halfway between Aberdeen and Westport. The resort (including the restaurant, bakery, nursery and gardens) is open daily, offering lunch and dinner from 11 a.m. to 7 p.m. Their Oregon satellite location, Westport Winery TASTING @ Cannon Beach, is located at 255 N. Hemlock. This tasting room is open daily from 11 a.m. to 6 p.m.