Unlike a typical livestock rodeo wrangling horses and bulls, the Washington State Transit Association's annual Roadeo puts vans, buses, drivers, and maintenance technicians through their paces. This year—as in previous years—teams from Thurston County's Intercity Transit took home a busload of gold medals.
In the first quarter of 2016, the American Public Transportation Association in Washington, DC reports that more than 1.2 million riders utilized buses to get around. Marketing and Communications Coordinator Stefanie Randolph explains that Intercity Transit is "a municipal corporation providing public transportation for people who live and work in Olympia, Lacey, Tumwater, and Yelm. Intercity Transit operates 25 bus routes, a door-to-door service for people with disabilities, a vanpool program, specialized van programs, and is active in community partnerships." Locally Intercity Transit recorded 5.1 million boardings in 2015 alone.
To challenge, teach, and inspire drivers and maintenance staff, Intercity Transit participates in the Washington State Public Transportation Roadeo every year. Here driving skill is paired with customer service, equipment maintenance, safety habits, and even ride smoothness to determine winners in a variety of categories.
"The operators and maintenance crew work really hard to prepare for the Roadeo," says General Manager Ann Freeman-Manzanares. "The competition highlights the depth and breadth of expertise we try to maintain to provide reliable, safe service to our community. We're very proud of the participants and the entire team that supports them."
This year Intercity Transit took home multiple awards. First place prizes went to Dan Savage for pre-drive inspection and Body on Chassis (our Dial-a-Lift style van) driving, Rob Wood for 35 foot Coach, and the maintenance team of Grant Swidecki, James Bush, and Joe Bell. Bill Miller finished fourth in 40 foot Coach.
The Grand Champion award combines scores from the maintenance team with those of the driver each team nominates before the event. Intercity Transit won both years this title has been offered. Out of seven total first place trophies at the Roadeo, five came home with proud Intercity Transit staffers.
But none of this would have been possible without hard work and determination. Randolph shares that "Operators practiced their driving, customer service, and safety skills 140-150 hours on their own time before the event. The maintenance competition was a team event, so participants needed to practice together. Because Joe Bell and Grant Swidecki work night shift and James Bush works on the swing shift, Bell and Swidecki stayed late at the maintenance facility to practice with Bush, who came in early."
Bush laughs that as the team's new kid "they made me" join but "overall it's been a pretty positive experience for me." William Snyder has enjoyed the Roadeo since 2008 and now looks forward to their second trip to Nationals, held this year in Reno, Nevada. He went from maintenance team member to coach and agrees, "You get stressed on game day and just sit on the edge of your seat" but the months of extra work are worthwhile.
Driver Rob Wood is passionate about this opportunity. "Maintenance becomes better technicians, drivers become better too; it benefits the company as a whole to compete. We could pay to send guys to training but if we enter them in the Roadeo they're much more engaged. It's a great tool."
This practice comes thanks the support of Intercity Transit managers and supervisors as well. "I feel it's very important to highlight the work and effort of our Roadeo Coordinator and Operations Supervisor, David Dudek," continues Wood. "David was the point person for all things related to our Roadeo training and preparation; he coordinated with the Port of Olympia for access to the Olympia Airport as a training facility for our operators, acquired all the materials necessary to build an operators training course (orange cones, 4×4 wood posts, 55 gallon drums), and spent tens of hours of his own time designing and building the course for operators to hone their driving skills. He also coordinated and conducted dozens of practice pre-trip inspections to help operators master the pre-trip Roadeo event. His efforts were instrumental in the successes of this year's competitors."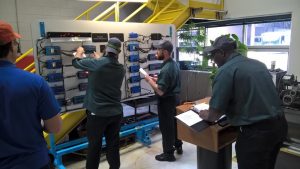 Forbes cites "the opportunity to work with people you like and respect and a strong positive culture, firmly grounded in a meaningful purpose" as two things that make companies great. Between community-engaging contests, green business practices, and compassionate support for those in need, Intercity Transit has thirty five years of happy customers and thriving employees. This annual Roadeo is one more way they celebrate success and bring home recognition so richly deserved.
Plan your next trip with one of Intercity Transit's many Travel Options where you'll find information on fares, routes, and much more.
Sponsored