Start a conversation with any employee at Batdorf & Bronson and coffee and community will inevitably come up. These two words are what drive the local coffee roasting company. From roasters to baristas, honoring coffee is top of mind for all Batdorf employees. Sharing coffee with the community is what they do best.
This year Batdorf & Bronson celebrates its 30-year anniversary and brought the two concepts – coffee and community – together at a roasting plant party on August 19. Over 250 guests enjoyed food from Bayview Catering including coffee flavored cake and affogatos, a coffee-based dessert. Four local bands, all featuring Batdorf employees, provided the entertainment on the stage set up in the parking lot. The purpose of the event was to show Batdorf's appreciation to their loyal customers, wholesale partners and vendors that helped them reach this milestone.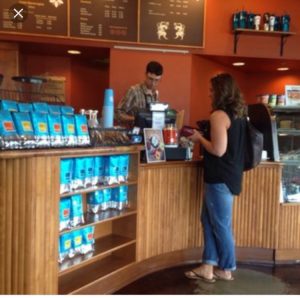 Many of Batdorf's partners, in areas such as import and export, have been with the company since its inception. "Relationships are what make our company different," says outreach coordinator Joshua Russert.
Batdorf & Bronson's founders originally envisioned a company that lasted for at least a century. Every relationship developed, from the coffee plantation farmers to the customers, is built on sustainability. "We are interested in what is lasting and eternal," says Russert. "We honor the traditions of coffee and are focused on excellence for the next thirty years."
Batdorf & Bronson has thrived in a crowded industry. Aaron Shively, operations director, believes success comes from honoring relationships and being dedicated to offering the best coffee. "We have a conviction to what we do and we don't stray far from what we do best," says Shively. "We let the coffee speak for itself."
Batdorf & Bronson is a strong partner to many of our community's non-profit organizations. If you have attended a meeting at the Hands On Children's Museum or South Sound YMCA or been to an event at The Washington Center, you have tasted Batdorf & Bronson coffee. "This is not just any community," says Shively. "It's the community we all live in together."
The anniversary party will continue throughout the year. Introduced earlier this year, Batdorf's 30-year Anniversary blend is a combination of organic beans from Ethiopia, the birthplace of coffee, and organic Bolivian coffee, a new supplier of beans for Batdorf & Bronson. As Russert explains, "Ethiopian coffee is a hallmark of Batdorf & Bronson. It provides the first 'aha moment' for the consumer that there is a real quality difference between coffee beans."
Shively adds that Bolivia is a small coffee market and the relationship between Batdorf and the Bolivian farmer has been built over the past 15 years. "It is a perfect blend of the old and the new which ideally represents our first 30 years." The anniversary blend is selling fast and the roaster anticipates it will sell out by the end of October. Grab a bag of this fantastic coffee at Dancing Goats or the downtown Batdorf coffee shop before it is gone.
Another highlight of the anniversary year is the One Roast program. All coffee at Batdorf and Bronson is roasted by hand, to taste and to order. It is a signature of the Batdorf brand. This year they wanted to do something even more special to reflect the importance of the milestone. Green bean buyer Bob Benck found a unique coffee bean. He obtained it in such small quantities that he personally brought it through customs. These special beans are roasted once a month and released online to customers who have pre-ordered the limited coffee. The roasting of these unique beans highlights all the skills of the roasters and honors the dedicated Batdorf & Bronson fans. According to Russert, a few pounds do make their way into the retail stores but in extremely limited quantities.
If the next three decades are anything like the last 30 years, I am excited to see what Batdorf & Bronson has in store for its customers.
Mugs depicting all three logos and retro T-shirts with original logos are available online. These items and the anniversary blend can be purchased at all three of Batdorf & Bronson's retail locations and at the Tasting Room on Market Street.
Sponsored