On a recent Thursday night, Cascadia Homebrew hosted local musicians Oly Mountain Boys, for a BrewGrass night. The smell of wheat and hops, the snap-along sounds of feel-good bluegrass, and the murmur of conversations, punctuated by laughs, filled the room.
This down-to-earth vibe not only exists in the tap room/U-brew/nanobrewery's atmosphere (kids and dogs welcome), it exists in the brewer's philosophy on crafting a great beer.
"There are many factors that go into creating a great beer," said Cascadia's owner/brewer Chris Emerson. "The core of most beers boils down to technique and ingredients. If you limit the quality of ingredients in a beer, you will limit the quality of the beer. When ingredients are sourced locally and from smaller suppliers, there tends to be more care taken."
The majority of Emerson's beer ingredients are sourced within 150 miles from Olympia. His beer is comprised mostly of hops from Yakima, grain grown and malted in Washington State, yeast from Oregon, and water sourced from McAlister Wellfield in Olympia. Hops grown on Olympia farms are often used for brewing and are available for sale to home brewers.
Beers enhanced with plants, herbs, and spices are sourced locally too.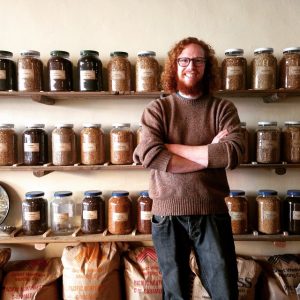 "I would love to source everything locally, but some things are not available," said Emerson. "We don't grow tangerines here in Washington so I can't source those locally. We do however have an abundance of nettles and yarrow. We brew up a nettle beer every now and again; those are fresh organic free-range nettles, as good as they get. (A special thanks to Jonah for picking the nettles this year.) Sometimes if there are herbs and spices that we can't pick such as sarsaparilla, I will buy herbs and spices from local shops such as Buck's Spice Shop and Radiance Herbs."
Coming up soon will be Emerson's version of a Pumpkin Ale. Instead of using pumpkin, he uses roasted butternut squash that is sourced from local farms.
"The roasted squash adds a unique but familiar character to the beer," he said. "It was a huge hit last year so I am brewing it again."
Sandstone Distillery is another Thurston County craft distiller using locally-sourced ingredients, such as rosemary, blackberry, and bacon.
Wait, bacon?
"One of our long-time neighbors up the road raised the first hogs fed with our spent grains. They were very lean and the bacon was fabulous. From that bacon came the first Stone Carver Bacon Whiskey, which was itself something of a whim," explained Jenni Bourdon, who co-owns Sandstone with her husband John and family. "John signed us up for the first Washington Bourbon and Bacon Fest in Fremont last year, but as a very new distillery, we had no bourbon ready yet and no bacon anything."
"So I improvised and we infused our White Whiskey with the bacon from the hogs that ate the spent grains that went into the White Whiskey and wow, was it ever well received," she continued. "We can now hardly keep up with the demand, and it's one of our top sellers. I truly believe part of the success of that spirit is that we don't add any chemical additives or flavorings–it is Washington-made Whiskey with Washington-grown bacon."
Sandstone, located on farmland in Tenino, also makes Vapor Infused Vodka. "Instead of overpowering the spirit, as cold-soak methods often do, the process of extracting the flavors of rosemary, garlic, chive, and old-world Corsican mint a way to allow the delicate and subtle herbs to shine," said Jenni.
Back in Olympia, Three Magnets Brewing recently purchased 400 pounds of blueberries from a local farm for a blueberry barrel-aged sour ale expected to release next year.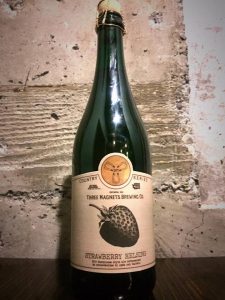 They have also used local pluots, Tempranillo grape must from Salida Winery out of Rainier, red currants from 3 Mags owner Nate Reilly's mother's home in the Tri-Cities, and local apricots. Last year's beet beer was made using beets from Wobbly Cart Farm.
Head brewer Jeff Stokes said they have done some variants on their Helsing Farmhouse beer, such as using strawberries sourced from Helsing Junction Farms that the beer aged on over the course of a year. Expect that batch to be released in the next couple of months once carbonation and flavor has peaked in the bottle.
"Keeping the community involved with the process is really important," said Stokes. "Farmers love to see their hard work and labor evolve into a product that they otherwise could not make themselves. And we love working with our community farms because the ingredients are the freshest and frequently the best in the market. Knowing the land where your food comes from really hits home and makes the connection to our beer that much more special."
Beer and Booze Bonuses
Want to learn how to brew beer? Cascadia Homebrew offers monthly beer brewing classes. Sign up by stopping at the brewery. Classes take about three hours and are very hands on.
Sandstone Distillery is about to embark on another flavor adventure with a new line of shrubs. "As exciting and dynamic as the vapor-infused spirits are, I am even more excited about our newest venture, Oh!Shrubs," said co-owner Jenni Bourdon. "This is another expression of our love of the savory and delicious.  Made with apple-cider vinegar and fresh fruits or juices (local blueberries, blackberries, apples, fennel, and more), the shrubs have been incredibly well-received in the R&D phase of development. We anticipate being market-ready before the holidays!"
Looking for a place to watch The Sounders? Look no further than Three Magnets, they show every game on their 90" screen.
Sponsored