At the downtown Olympia branch of the Salvation Army, with the help of Catholic Community Services, volunteers serve three meals daily to those in need. This amount of service is a massive undertaking, too big for one group alone. Many individual groups give their time and effort to this worthy cause, and one such group, which provides a healthy, nutritious dinner once a month, goes by the name Feed the Need.

"We usually have about a crew of four to five people to help prepare the meal," says Linda Shea, coordinator for the Feed the Need group. "They get started about 3:30 p.m. Most of the volunteers are working people so they take time off work to come." Volunteers typically stay until 6:00 or 6:30, which creates about a three hour shift.
The group has a specific meal they make and serve the first Tuesday of every month; enchilada casserole, refried beans, corn, green salad, and dessert. After a few years of making it, they know exactly how to make enough for the 80-120 people who typically come in for dinner.
"We get all the food prepped and then at 5:00 p.m., a worker unlocks the door and we just have a serving line, basically. We dish up plates for them, including dessert. We have people who are behind the scenes washing dishes and wiping down tables and making sure everything is in order," says Shea. "My dream would be to have enough volunteers that we could actually serve people.  We want people to feel, not like it's a hand out, but like they get to go to a restaurant and have a nice meal."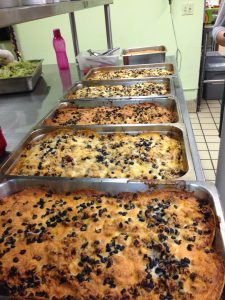 Feed the Need is a unique set of volunteers in that the members do not all come from one single church or organization, as is common for groups that serve meals at the Salvation Army. "We're just a group of plain old, ordinary people who work State jobs or office jobs or non-profits or are retired," says Shea. "We're just a rag-tag group of people who want to do something good every month. Typically it's friends and family or people I work with who come and help me serve the meal." Regular volunteers with the group include Bernadette Griffin, Beth Halstrom, Jesse Buday, Alison Wood, Martha Shinners, Megan Wood, Charlotte Roberts, Christine Rayburn, Doug Popwell, Mike Shea, Ina Ziegler, Loren Stern, Tracy Carli, and Maryah Smael.
Shea got involved with the service seven years ago through a colleague. "I was kind of suckered into it, in a nice way," she laughs. "I had lunch with a former boss and he mentioned that he volunteered." She was immediately interested. "I came down about two or three times with him, and he said, 'I've been looking for someone to take this over,' and I couldn't turn him down. I've been coordinating this group ever since."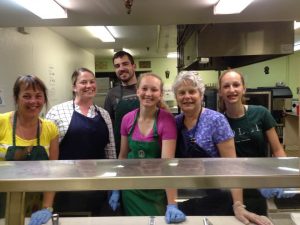 Shea thinks it is important to address the misconceptions that exist about people in need. She has noticed that they tend to be characterized negatively, as people who are addicts or lazy, but in working with people in need Shea has seen firsthand that many of these stereotypes tend to be untrue. "We see kids, teenagers, and families who don't have a home," says Shea. "Every person deserves a basic meal. I don't know if people realize that this is going on three times a day seven days a week. The need is out there. [Feed the Need] serves one meal a month, and we're serving 80-120 meals just in that one shift."
"People are beyond grateful," says Shea. But the thanks are not why she keeps doing this, month after month and year after year. The members of Feed the Need, Shea especially, want to make a difference in the world, and feeding the hungry in their own community is a good way help.
Anyone can volunteer, whether or not they have a group. Those interested in volunteering should contact Gabriel Ash, the Community Kitchen's Social Services Manager. "Because they serve three meals a day, it's really flexible," says Shea. "The Community Kitchen and Salvation Army would love to have volunteers come in for every shift."