As a ten-year-old, Sarah Nagel took her first dance class. Two years later, her parents signed her up for a youth baseball team in her hometown of Yelm. Her parents quickly realized that she was spending her outfield time doing leaps and cartwheels. It was the beginning of a love of all things dance. Sarah danced for the Yelm Dance Shoppe and competed for many years in several genres including jazz, and hip-hop. At Yelm High School, Sarah played basketball. By her junior year it became too difficult to juggle both activities and she quit dance to concentrate on basketball her last two years of high school.
Dance was never far from her mind and after graduation Sarah went back to the barre and spent seven years teaching at Prairie Dance Center in Yelm and an additional year at Studio One Dance. When the opportunity arose to open her own studio, Sarah knew that her life and experiences had come full circle.
The team is what she loved about playing basketball. A natural leader, she was the team captain and her teammates quickly became her best friends. This supportive team atmosphere is what Sarah wants to bring to her newly opened studio KAOS Dance Elite in Olympia. Dancing requires cooperation and support from fellow dancers just like those teammates on the basketball court.
The National Dance Education Organization explains, "Dance is a powerful ally for the growing child. Dance helps children mature emotionally, socially and cognitively."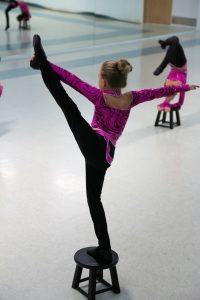 "I am so excited to help students succeed in dance and in life," she explains. "My hope is that each student leaves KAOS Dance feeling better about themselves than when they walked in." Sarah is passionate about teaching the fundamentals of dance in a warm and inviting place students will love to come.
Combining sports and dance is a familiar theme in the Nagel family. Sarah's husband, Cary Nagel is the Offensive Coordinator for the Franklin Pierce High School football team. Fall is the busiest time of year for any football coach but he still finds time to be Sarah's biggest cheerleader and support. "Cary has been looking for dance studio space for years," she tells me while standing in the bright studio on Pacific Avenue in Lacey. "He has always encouraged me to find a way to open my own studio."
A family affair, her parents have helped prepare the space for the first students to walk through the front door. Sarah's mom, Loree Deede is the studio bookkeeper and her father Ken recently finished shampooing the carpets. "My parents taught me a strong work ethic," she says. "It is their love and support that I want to give back to my students."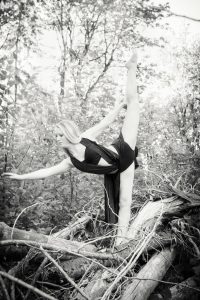 Along with Sarah's desire to teach, she is eager to give back to the community. Sarah is looking forward to showcasing her KAOS dancers in local retirement homes and community-based events. KDE currently has six employees. Four dance instructors round out the staff including a student instructor from Bethel High School with eight years of dance experience in ballet, jazz, lyrical and hip hop.
The first day of instruction is September 12. Classes include jazz, hip hop, musical theater and tap. Zumba classes, yoga and belly dancing will also be offered at KAOS Dance. There are still opening in many classes although Sarah expects them to fill up quickly once everyone is back in the swing of fall. Dancers of all ages are welcome at KAOS Dance.
The studio is located at 3660 Pacific Avenue SE, Suite B in Olympia. The studio is located next to Capital Business Machines and has ample parking in the lot directly in front of the studio. For more information about fees and classes contact the studio at 360-412-8225 or kaosdanceelite.com.
Sponsored