Submitted by Saint Martin's University
Saint Martin's University men's and women's cross country teams gave back to the beach they run on in the third annual beach clean-up.
On August 24, SMU cleaned up Westport Beach on the Washington coast as a way to give back to the local community.
"We have an amazing group of men and women on our team this year," said head coach Jim Brewer. "They want to make a difference on and off the race course. Everyone was so willing to help clean-up the beach after one of our recent training runs."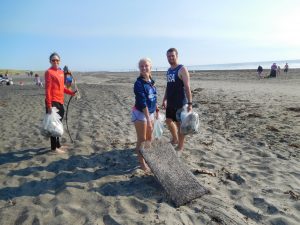 "It's sad to see all the garbage left behind but it's our pleasure to help beautify the beach we enjoy running on every season," added Brewer. "We always have people ask what group we're with. We're proud to say we're from Saint Martin's University!"
Cross country will opened the season on Saturday, September 3 at Ft. Steilacoom for the Puget Sound Invitational.