Downtown Olympia recently welcomed its first craft distillery and tasting room – Blind Pig Spirits. Blind pig refers to a prohibition-era drinking establishment, similar to a speakeasy. In order to circumvent prohibition laws, customers would be charged a fee to view an animal in the backroom and then be served a "complimentary cocktail." These establishments became known as blind pigs. While they aren't any live animals at Olympia's Blind Pig, there are excellent cocktails and spirits, including moonshine, along with a fun, inviting environment.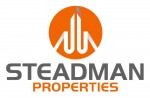 The distillery and tasting room started in Centralia four years ago, and moved to downtown Olympia last year, into the burgeoning 222 Market space. "We're really excited about the market. I think it's going to be exciting for Olympia," says co-owner Lesa Givens. "Our distillery is small-batch, hands-on."
"It's an experience. People can come in when we're distilling and fermenting, and they can smell it, see it, experience it and they can taste everything," says Lesa of the tasting room. "We have fun merchandise, and gift boxes. The labels say it's made in Olympia now, and people embrace that."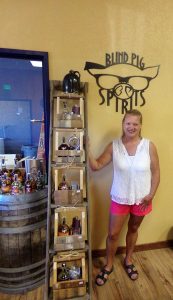 "We use Washington grown products, so we're supporting farmers in our region. The barley and fruits that we're using are Washington sourced," Lesa explains.
"Everything is such small batch," she continues. "People love it when I show them I don't have a bottling machine. Every bottle is one bottle at a time, then we put the cork in by hand. The label also goes on by hand, so it might be a little crooked every once in a while. We write the batch numbers on there by hand."
"We put our heart into every single bottle by doing that, and that's different than buying a bottle of Jack Daniel's that was made on a production line, and people appreciate that," she says. "We've also kept our pricing down. We want it to be a product that's affordable, where people can experience it and it's not an expensive bottle."
Blind Pig Spirits' product list currently includes Moonshine (white whiskey), Apple Pie Shine, Peach Pie Shine, Tropical (guava) Shine, and their legendary Vodka. When asked what her favorite is, Lesa chooses them all! "It depends if I'm drinking it straight, or mixing, or the season," she says. "In the fall I really like the Apple Pie Shine in hot apple cider. In the summer time I like the tropical flavor because it mixes so nicely with different fruit juices. But I'm also a big fan of our vodka, because it's so unique and smooth." Blind Pig also plans to unveil gin and limited-production aged whiskey soon.
Their customers are a combination of supportive locals, old fans from Centralia, and tourists and business travelers. Lesa chats up everyone with a friendly smile. "It's so fun to ask people where they are from and what they are doing here.  I like to find out who our customers are," she explains.
Lesa says her business partners Ray Watson and Fred Moore make a great team. Ray, who is a welder and fabricator, builds and repairs all of the equipment and decor. Fred is a retired chemist and oversees distilling, while Lesa uses her background in marketing and sales for the business. They all work together and their complementary strengths make the distillery tick. "There are a million tasks and everyone pitches in to help with a piece of it. We all own different aspects of the business, and that makes for a really great partnership," she says.
Lesa says Olympia has been welcoming and supportive. "Olympia rallies for the little guy," she says, explaining that their DIY-nature is embraced in Olympia. "We used to be embarrassed by our equipment. It's all repurposed from farms, but people here dig it. They love that it's repurposed. We used to be embarrassed by being the 'garage sale' distillery but now we can embrace it. We do everything ourselves here – we put the floor down, Ray built the bar, all in one weekend."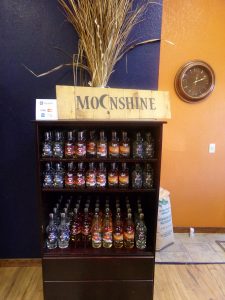 Blind Pig also offers moonshine making classes on Wednesday nights and Saturday afternoons. The classes last three hours and students make moonshine start to finish, from mashing the grain, to distilling. "It's all hands-on," says Lesa. "It's not just standing there watching someone do it, you are actually doing it, you do everything from start to finish."
Tasting room hours are Friday and Saturday from 11:00 a.m. – 6:00 p.m. and Sunday from 12:00 p.m. – 5:00 p.m. A $5 taste includes a sample of all five products.  For more information on Moonshine 101 classes and other special events, visit Blind Pig Spirits online or call 360-628-8259.