Submitted by Paul Dunn for Chehalis Basin Lead Entity
The late-summer sun glances off JB McCrummen's face, dividing his smooth-shaven features into light and dark.
The sharp, low angle of the rays signals the approach of autumn, though this August day promises to be warm — at 8:30 a.m. the temperature is already in the mid-60s.
That's just fine with McCrummen. He's in shorts and cap ambling over his 21-acre property on Michigan Hill near rural Rochester, pointing out these bushes, those trees, this pond, that creek and so much more that has made this rectangle of land a tranquil jewel.
The 73-year-old purchased the acreage in 2009 after viewing more than 500 sites in Washington, Oregon and Idaho. It had taken him about 10 years to find just the right parcel that would meet his requirements: location, price, and setting.
But even after viewing the Rochester land — through which meanders Beaver Creek, a tributary of Lincoln Creek and part of the Chehalis Basin Watershed — it took him another "five months to pull the trigger."
The parcel, though gorgeous, presented challenges for anybody wanting to live on it, though the site's obvious impediments — steep slopes, wetlands and invasive shrubbery — were really the least of McCrummen's concerns. More daunting would be finding potable water and deciding whether to build off the grid or pay to extend electrical power to the land.
This wasn't McCrummen's vacation getaway, after all: He wanted to live here. And he wanted to personally combat climate change in the process, which he said had begun concerning him more than a decade before.
"I became really discouraged about (climate change) and the prospects for my three grandchildren and their generation," said McCrummen, who is divorced and has a son and daughter.
So he did what he could.
"The only strategy for me was to have a small-footprint home, enhance the wildlife habitat on the land and be carbon-neutral or carbon-negative in my living," he explained.
Though the property had been logged in 1990 — providing an access and skid roads to the site — McCrummen knew that his vision for the homestead would require lots of hands-on labor.
"I had built and remodeled homes, so I knew what had to be done to make this parcel into a home site on which I could build my house," he said.
And now, almost exactly seven years since he bought the land, he has embraced his homestead like a father hugs a child.
"Yes," he says, tying his shoes on the sunny back porch this summer day, "I'm very fortunate."
Fortunate, too, was McCrummen to find professional resources to help guide him through his homestead project.
Having had previous experience working with the Soil Conservation Service, he decided to contact its successor agency, the National Resource Conservation Service (NRCS). The NRCS is the U.S. Department of Agriculture's principal agency for providing conservation technical assistance to private landowners, conservation districts, tribes, and other organizations.
McCrummen worked with foresters in local NRCS offices in Olympia and Puyallup to help him determine how he could enhance wildlife habitat on his property. That collaboration spurred him to eliminate much of the land's invasive plants such as thistle and blackberry and then plant deciduous and conifer trees along Beaver Creek and elsewhere on the property.
"In total, I planted close to 350 native plants such as hemlock, spruce, currants, elderberry, and other wild fruit," he said. "They're all growing and attract wildlife."
That wildlife — in this case the species that lives in Beaver Creek — includes one of the Pacific Northwest's most heralded luminaries: salmon. According to Joshua Himsl, a forester with the NRCS who worked with McCrummen, Beaver Creek — though designated as a salmon-bearing waterway — "has been hampered by fish passage barriers restricting fish movement and overall quality of fish habitat."
But that may change now that McCrummen has enhanced his land.
Himsl, 32, who has worked with the NRCS for six years, notes that beavers and salmon maintain a kind of symbiotic relationship in that beavers provide important rearing habitat for juvenile salmon by protecting them from winter high water flow, increase woody-debris habitat and capture sediment that could harm spawning beds.
"By providing habitat diversity, JB's property will provide additional habitat not just for salmon species, but a variety of wildlife that utilizes the creek, riparian area, and upland habitat," Himsl explained.
In many respects, McCrummen grew up much like his property's native species do now — free to grow toward their life's purpose but expected to navigate potential barriers along the way. His life experiences, in fact, may indeed have foreshadowed his circuitous path to the Rochester hills.
Born and raised in Clovis, Calif., he graduated from Fresno State University with a degree in business and a minor in agriculture before diving into post-graduate work at the University of California Santa Barbara.
He cut his teeth in the working world at age 12 when he began pruning trees and picking peaches, apricots and plums on area orchards, an avocation he would continue for the next 10 years.
"I worked my way through high school and college on the farms," McCrummen said.
What he considers his first professional job materialized after college through the Muscular Dystrophy Association, where he was district director for most of Southern California.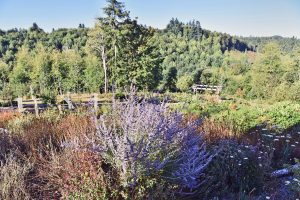 Then in 1968 McCrummen got "heavily involved" in the world of California and Santa Barbara politics, eventually prompting him to organize the first-ever national environmental conference to commemorate the enormous 1969 Santa Barbara oil spill.
Noted environmental scientist and Stanford University Professor Paul Ehrlich headlined the conference, McCrummen said, and "talked about the population explosion, overconsumption, over-dependence on oil and their impact on the environment."
The conference would help christen the first National Earth Day on April 22, 1970.
At that point, McCrummen might have preferred staying in Santa Barbara, but that scenario wasn't in the cards. His position in the Santa Barbara environmental movement proved problematic — at least to some in that sun-washed California community.
"I got along well with the rich and the poor, but not too well with the business people," McCrummen said. "They were selling to the oil companies and didn't want to deal with me, so I got blacklisted and decided I needed to figure out a different place to live."
So by calling on political connections he ended up in Olympia in 1970 where he landed a job in the Governor's Office of Economic Opportunity as chief of community organization. He would stay there until 1975 then spend the next 30 years or so — with stops in Seattle, Yakima and Port Townsend — working in public policy, organizing non-profit organizations, grappling with local food and anti-hunger issues and spending time in the private sector.
After embracing the Internet in the mid-1990s he spent 15 years assisting corporations and governments strategically plan their technology.
And now, having lived in Washington for 46 years, McCrummen spends parts of his days contemplating the world through the south-facing bay window of the 832-square-foot house he designed and helped build.
From his perch on the slope overlooking his hilly property, McCrummen frequently views the results of all his work.
"The wild cherries and other native plants have been pretty spectacular this year, and it's been fabulous seeing the wildlife eating those," he said. "And I feel encouraged that there seems to be more wildlife here than when I first came."
McCrummen has seen a variety of fascinating creatures since he moved into his house in 2010. They include American and bald eagles, deer, bobcats and coyotes, river otters — and signs that cougars and bears roam the area.
As he looks back on his continuing adventure, McCrummen believes he has accomplished what he originally intended. And it may serve as an example to others contemplating similar pilgrimages.
"What I did wasn't a shift in my overall values, but it was a shift in how I live," he said. "I think what that says to other people is we as individuals have to make dramatic shifts in how we live in order to reduce the consumption of natural resources."
To learn how you can be involved in salmon recovery, visit the Chehalis Basin Lead Entity website.