Submitted by Yelm Community Schools
A five-year $1,250,000 grant from the Department of Defense Education Activity (DoDEA) Partnership will allow Yelm Community Schools to improve learning by increasing technology for students and aligning instructional practices.
This project will increase K-12 military, federal-affiliated student achievement in mathematics and increase college and career readiness for all students through professional development of teachers in Science, Technology, Engineering, and Mathematics (STEM).
"We want all of our students to experience success in math.  The key to that success is that students understand not only how math works, but also how they can use it in their lives," stated Kendall McNutt, Coordinator of Instruction. "The grant will fund a project that supports a system of math instruction that ensures students really understand mathematics and that they can use their understanding in the real-world.  Our previous DoDEA projects have opened doors for our students, and so we greatly value that partnership.  We are honored that they selected our project."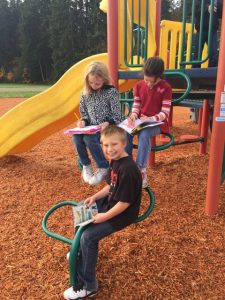 The following schools in the district have high percentages of military-connected students: Lackamas, Mill Pond, Prairie, and Southworth elementary schools; Yelm and Ridgeline middle schools; and Yelm High School.  The school district serves students whose parents are assigned to Joint Base Lewis McChord.
The goal of this project is to increase student achievement in mathematics and assist students as they transition from elementary school into middle then high school.  "Military students are particularly vulnerable during significant transitions.  The DoDEA grant allows us to increase support for students during these critical transition times, something that can positively impact all students," according to Kimberly Sullivan, Director of Assessment and Grants.  "While the grant targets increasing military student achievement, all students will benefit from professional development of teachers in STEM content, high-quality instruction, and increased access to technology."
This is the fourth grant Yelm Community Schools has received from the DoDEA Partnership Grant Program, totaling more than $3,000,000 in support for military-connected students, professional development opportunities for teachers, and technology access for all students.