In this information age, it's not uncommon to have a job with no end product. Many of us have positions which engage almost exclusively over the internet or on the phone with very little tangible output. But that can't be said for Greg Amendala, the builder behind Olympia's live/work/play community The Village at Mill Pond.
Industry commentators admit that as opposed to other industries, "Many of home building's differences, however, inject extreme variability in both process and product leading to what often appears to be barely controlled chaos…Complexity is inherent to home building."
Visit the worksite though and you'd never know so much was bustling behind the scenes. Thanks to Amendala's skill and experience, the Village at Mill Pond is a gorgeous showpiece of Craftsman elegance. With more than 30 years in the building field, his talent shows in the array of home styles which range in size from 1900 to almost 3900 square feet.
"I have been involved with the construction industry since 1978. I started as a laborer progressing through the ranks of foreman, project supervisor, and project manager to Contract Administrator. My construction experience includes commercial steel buildings, concrete tilt ups, office buildings, designing and building custom homes and remodeling, with projects in Mason, Thurston, Lewis, and King County."
Locally, "I became involved with Mill Pond in December of 2014; Paul McLain of RE/MAX Parkside introduced me to the owners. I sensed their commitment to building unique, high quality homes using the best materials and subcontractors available," explains Amendala, "Our goal is to provide a one of a kind experience, all without leaving the development."
This takes the form of single family homes, townhouses, rental apartments, and commercial space all nestled amongst parks, lakes, trails, and a stunning community center. Located at 2400 Lilly Road NE, the community is only minutes from downtown Olympia attractions, waterfront, and will include both school and city bus stops.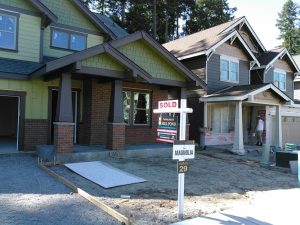 Amendala has noticed that current building trends are shifting toward larger homes than before. To balance increased utility costs, he and his team are equipping all Mill Pond homes with high efficiency heat pumps coupled with on demand hot water tanks. These steps combined with increased insulation in floor, ceiling, and walls mean bills stay low throughout the year.
Such a commitment to quality and green building practices benefits everyone. "Unlike some developments we are not doing value engineering, which means using the subcontractors with the lowest bids. We use several factors to determine which subcontractors we are using. The first is quality, then performance, and lastly cost."
Despite it being less than four months since their March open house, the Village at Mill Pond is thriving. With brokers on-site seven days a week from 12:00 to 6:00 p.m. and build times as short as 90 days, prospective buyers can move in before school starts.
Interested families can download a full brochure of the community's many amenities, follow frequent updates on Facebook, or just stop by and explore the grounds, trails, and model homes. RE/MAX Parkside brokers are available to answer questions about floorplans, custom finishes, or even listing your current home.
Home ownership is one of the most exciting—and a little scary—steps in life. But finding that perfect, high quality, stunning property makes it a step worth taking.
Call 360-972-8623 with questions or to schedule a tour.
Sponsored