If you were to describe all the things that make the Puget Sound a beautiful place, you would have to mention the spectacle that is the sound itself. You can charter a boat to fish, crab or shrimp. You can rent a kayak and explore, but if you happen to be in a mood for something a bit outside the norm perhaps a little hoe he'e nalu, or paddleboarding, might be worth a shot. Meet Chris and Jackie Fry at West Bay Paddleboards.
Popularized first in Hawaii, paddleboarding first grabbed the attention of avid sea goer Chris Fry a little over nine years ago. Chris, a 30-year Olympia veteran, has been on or near the ocean for most of his life and it doesn't seem if this will change anytime soon. "I moved down here on a trimaran (a triple hull sailboat). We moved here by boat and I still sail the waters to this day. I sail the waters and I paddle the waters so I know them well," he says.
Chris sailed, tried kayaking and various other types of boarding before falling in love with the art of stand up paddling. A little over nine years ago he had the ambitious idea that others in Thurston County might, like him, enjoy an alternative means to explore the waters around Olympia. "I started out with just two boards in a trailer downtown," says Fry. "Each season bookings grew, lessons grew and all of the sudden a couple of boards and a trailer wouldn't do." And thus West Bay Paddleboards was born. Located at West Bay Marina on West Bay Drive, Chris now has an extensive booking list, over 25 boards and every paddling accessory one could possibly need.
A little over three years ago on a calm sunny day, Jackie walked through the door. She would eventually become the other half of Olympia's paddleboarding couple. Jackie, a fellow Olympia veteran and avid kayaking enthusiast decided to try paddleboarding. The duo now co-run West Bay Paddleboards and offer rentals, group and single lessons, guided tours, sales and can attend to 100% of your he'e nalu needs.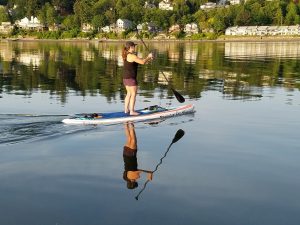 With their combined experience and extensive knowledge of the Puget Sound, Chris and Jackie happily walk beginners through the art of paddleboarding, understanding the tide and wind and also help you to maximize the sights during your adventure. West Bay Paddleboards also offer full lessons to those who wish to take a more vested interest in the sport of South Sound surfing. From their marina you can glide to Lower Bay, Priest Point Park, Ellis Cove, Percival Landing, Boston Harbor Marina, Gull Harbor or just visit the sun bathing seals right next door at the log rafts.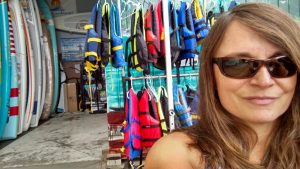 For those who are a bit more experienced and ambitious, mastery not required, West Bay Paddleboards also offers guided and group long distance tours to locations like Hope or Anderson Island. With over 20 different boards, you can schedule an expedition for you and the whole family. You can even drop one of their new custom anchors and do a little sun bathing in the middle of the bay! West Bay Paddleboards also sells boards and accessories.
If you are interested in getting out on the water, drop by and see Chris and Jackie Fry at West Bay Paddleboards. There are a lot worse ways to waste a summer day.