For Stephanie Roloff, life has come full circle. Roloff, who began her involvement with YWCA of Olympia as a young girl is now serving as the development intern as an adult.

Last fall, as Roloff began her final year studying Journalism Public Relations at Western Washington University, she reached out to the YWCA of Olympia seeking a summer internship opportunity.
Although her history with the nonprofit organization dates back to 2004, she thought her chances of getting hired onto their small, hard-working staff were unlikely.
You can imagine her surprise when Chief Executive Officer Hillary Soens welcomed her back with open arms.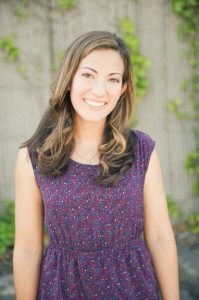 "I really believe in the work that they do here," said Roloff. "I thought it would be cool to come back to the place where I started my love for working with non-profits and volunteering."
Established in 1945, YWCA of Olympia strives to eliminate racism and sexism to advance the political, social and economic status of all women and girls. The non-profit organization offers various programs aimed toward its mission
One of these programs, Girls Without Limits, focuses on encouraging confidence, community involvement and career awareness among preteen girls – specifically in science, technology, engineering and math fields (STEM).
Roloff participated in the camp for three summers in elementary school, then went on to become a junior counselor in middle school.
"I really like the local aspect of it, seeing what your community has to offer and making those connections," said Roloff about the program. "It shows girls that even if they don't necessarily go into a STEM field, they can if they want to."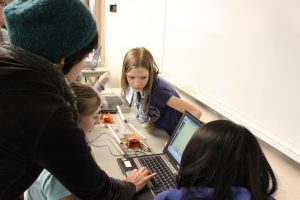 One of her favorite activities from when she participated was volunteering at YWCA's The Other Bank, which provides toiletries to people in need. She believes the experience sparked her passion for community service.
"It was my first exposure to any kind of volunteer work," said Roloff. "When I got to high school I was already doing a lot of community service because I liked doing it when I was younger."
Apart from participating in fun, hands-on, community engaging activities, campers are also given the opportunity to hear from professional business women in STEM fields.
"It's really cool because, especially in media, you don't really see women you can look up to in these fields," said Roloff. "These are women who are local. They really try to give young girls empowering role models to look up to."
In high school, Roloff continued to volunteer at The Other Bank and the YWCA of Olympia office. She received the Young Women of Achievement Scholarship in 2011 after being nominated by the Girls Without Limits staff.
The scholarship helped her earn her Associate of Arts degree from South Puget Sound Community College. She continued her education at Western Washington University, where she remained involved at the YWCA of Bellingham.
Now as a Development Intern at YWCA of Olympia, Roloff handles public relations work and planning for some of the events and programs that she used to participate in, including the 23rd annual Women of Achievement Gala. This year the event, scheduled for October 28 at The Washington Center for the Performing Arts, will feature a VIP reception as well as spoken word and music performances.
According to Roloff, the gala is a chance to honor and give recognition to women who have greatly contributed to the community, whether they are well known or not.
The event also includes a word from the honorees, and a "big name" mystery speaker. Last year's speaker was race and gender activist Naomi Tutu, daughter of social activist Desmond Tutu.
Halfway through her summer internship, Roloff feels she has learned a tremendous amount and enjoys working with a team of women.
"It's just been really great to see how passionate everyone is," said Roloff. "Even though they're all dealing with everyday life struggles, you can tell everyone brings their 110 percent here. That inspires and motivates me."
Roloff is set to graduate from Western Washington University in August. She hopes to be able to use her Journalism Public Relations major in the nonprofit world after her time at YWCA of Olympia.