At Saving Face Skinspa, esthetician Wendy Christman is focused on results. With 15 years in the field, she knows all the latest procedures and treatments to make your skin look its best. "I really, really enjoy it. I like making people happy, but more importantly I like seeing change. Everybody leaves with a change every single visit," she says before launching into a discussion about microneedling.
Whether you are treating acne, or wanting to look years younger, Wendy can structure a treatment based on your needs.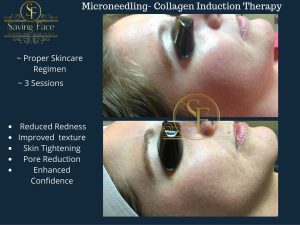 We sit down to talk about one of her more versatile procedures, microneedling, more affectionately called collagen induction therapy. Microneedling is used to treat, not only wrinkles, scars, discoloration, but also to tighten the skin and reduce the appearance of pores. Wendy has been performing microneedling procedures for the past seven years and has seen incredible results with her clients. "Cleaning somebody's skin up, getting rid of their acne, getting rid of those wrinkles that have really bothered somebody is so rewarding for me."
And her clients agree. One testimonial from a client states, "seeing Wendy and following her advice has been the best decision I've ever made. I have now had two microneedling sessions done and I'm absolutely stunned at the results. My face texture looks fabulous, my wrinkles diminished and I am loving my skin. I highly recommend her."
So what is microneedling? Wendy explains the process involves tiny little pinholes which barely puncturing the skin. She uses single-use sterile needles on every client, which go just deep enough to stimulate your body to grow new collagen. This is important because after age 25, our bodies stop making collagen and begin breaking it down. "I tell people we're turning back the clock, but the clock is still ticking," Wendy says smiling.
Microneedling is a great alternative to Botox and other fillers as well as chemical peels, producing better results with virtually no down time. Wendy starts with a free consultation before she schedules any collagen induction therapy appointments. "You get to meet me and make sure we are a good fit. I want every client to feel good about who they are working with. And I want to make sure that I'm a good fit for you." If Wendy feels like she will be able to help you, she will schedule an appointment, otherwise she may refer you to another professional.
Does microneedling hurt? Wendy says you can definitely feel the procedure and hear the machine, but it's not painful. She even has some clients who fall asleep during their session and others who say it feels good. While microneedling, Wendy will make several passes across the area she is working on in different patterns and depths. To treat your entire face, the appointment will last about 90 minutes, including time to apply an initial numbing agent and follow with a cold compress.
And the results start to happen almost immediately.
What can you expect after microneedling? For about four hours, Wendy explains you will feel similar to having a sunburn. Other clients say the flushed feeling only lasts for an hour. Either way, the results will keep happening long after the flush fades. Wendy says immediately her clients will notice tightening and a glow to their face.
Then over the next three months their skin will continue to improve. She says she wants people to be realistic about their results, but wants them to see a difference and gain more confidence. "I want to find out what the root of the problem is – what it is you're after, what your goals are, and what it is you're wanting to achieve." Wendy adds it may take three to four sessions to really get the results for her clients, but then in maintenance mode it's only an annual appointment.
What are the potential adverse side effects of microneedling? Wendy tells me the risk of infection is very, very small. She has strict rules her clients need to follow after the procedure to maximize their results, including no sun exposure. However, unlike a chemical peel, her clients can apply make-up the very next day.
In summary, Wendy says micro needling is a great way to brighten your skin and make you look years younger with a non-invasive, no down time procedure. She strongly recommends it before a wedding or special event, and says it will help you look your absolute best. "It's just rewarding for me. In this tiny little room I have a huge personnel connection," she says.
It's the personal connection that keeps her clients coming back for all their skin care needs. "Wendy's expertise is the best in the entire Olympia and surrounding area. I trust her with all my skin care needs. And appreciate her vast wealth of knowledge, gentle touch, relaxing atmosphere and the outstanding results that I always get!!! My results from the facial micro needling are absolutely astonishing and fabulous!!! Thank you Wendy," says one customer.
Saving Face Skinspa also has an individualized acne treatment program and a full line of skin care products for men and women. For more information or to schedule your free microneedling consultation visit Saving Face Skinspa on their website.
Sponsored