The border between Olympia and Tumwater just north of North Street is a jumbled mess. While municipal borders aren't often clean lines, this particular example is an extreme case.

On some streets, houses switch between cities as you move from neighbor to neighbor. What this jumbled map represents is a few months between 1949 and 1950 of aggressive civic plans and divergent wishes of neighbors about what city they wanted to live in.
This particular part of Olympia and Tumwater had been fairly rural until just about World War II. At the start of the war, many of the streets we now see in that neighborhood had been laid out, but they were mostly empty of homes. Those homes that were built were clustered along the northern end of the neighborhood along Carlyon Street.
Soon after the war, the still unincorporated area began sprouting a thicker neighborhood.
Then, in the summer of 1949 a small skirmish between Olympia and Tumwater started as each city began scooping up parcels and houses along the newly laid out streets.
The procedure to become annexed into either city was for residents and property owners to draw a line on a map and get as many people inside that area to sign a petition. The owners of sixty percent of the assessed land value (roughly) in the area to be annexed needed to sign before a city could consider expanding city boundaries.
This issue is typically settled because newer neighborhoods were usually annexed before construction. In that way a developer could bring their entire project into the city. But, because the North/Carlyon neighborhood had already begun growing, each neighbor could essentially choose between either city.

Both cities quickly began considering and passing sometimes overlapping annexations. A house that was included in one annexation petition, and approved by one city, would be included in a competing annexation agreement by the other.
Tensions between leaders of either city and neighbors were high. From the Olympia News in August 1949:
The Tumwater hall Monday was almost crowded – literally – to the rafters, and many of the people present had to have chairs brought in so they could sit in the hall outside. Others had to stand.
Each resident and homeowner had to weigh the cost (taxes, fire insurance) of being in either city with what community they identified with most.
One local resident even claimed that the annexation debate cost him his job. "I got into a tangle with Bud Dawley over the annexation question," Verne Bacharach, formerly of the state tax commission charged. "He said he'd have me fired and he did."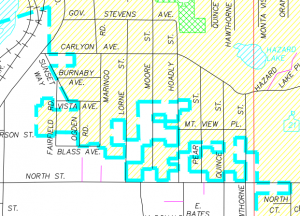 His target responded: "Annexations didn't have a thing to do with it…"
Some of the annexation petitions ended up in court and at one point the county sheriff was called in to help mediate the situation. The sheriff chaired a special meeting just between the neighbors, not involving any representatives of the city. But, even that neighbor meeting failed to tamp out the flames of quick annexation as the cities quickly gobbled up petitions throughout the fall, winter and spring.
All together, Olympia on its own considered and passed nine different annexation petitions for property in the neighborhood between September 1949 and May 1950. Several of these ended up in court before being ironed out.
Even the Olympia Brewery, with its home in Tumwater and the namesake of Olympia, felt it needed to speak up. A special advertisement paid for by the brewery called for peace:
One day someone suggested that perhaps greater benefit could be gained by consolidation or annexation…
One misunderstanding led to another, neighbor was pitted against neighbor, friend against friend, toes were stepped on, tempers strained, and some claim that even the dogs, seeming to sense the commotion, barked at each other until near pandemonium reigned.
Contrary to some unfounded rumors, the Olympia Brewing Company will neither stand to lose nor gain a thing from any decision reached… We have employees and management staff residing in all three areas and we respect their feelings and opinions…
Coloring the neighborhood debate was the expansionist attitudes of either city. In the same year, Olympia was also considering sizeable annexations along both the west and east sides of the city.
Tumwater was on a more aggressive annexation binge along its borders, bringing in over 600 city blocks in one week. For this sudden expansion, Tumwater looked away from Olympia, but in every other direction (south, east and west) instead.
"The motive behind these annexations is the rapid forthcoming development in all parts of the newly annexed areas and the overwhelming desire to avail the new areas of water, fire and street facilities of Tumwater," the Tumwater mayor said. Tumwater wanted to grow.
As 1950 wore on, the number of non-annexed lots in the disputed area quickly declined. The last hold out finally came into Olympia in the last 1960s. But, tensions over the border dissipated over time.