In the last two years, Leah Irwin has crocheted somewhere close to 2,500 articles of clothing. With the help of friend, Sharon Baker, Leah hand-makes hats, scarves, and mittens, all of which are given up for donation to the Salvation Army and Olympia Union Mission Gospel.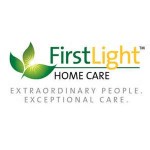 "I've knitted all my life," says Leah. "I was raised in Canada and we all learned how to knit and crochet early. I taught knitting in the schools and I was a Red Cross instructor during the Second World War." Knitting comes naturally to her, so when health issues confined her to her apartment, she began to knit and crochet all the time.
After a while, "she had all these hats to get rid of," says Sharon, who visits Leah every week to help with her housework. "She had this huge amount. It was amazing. I hated to have her stop."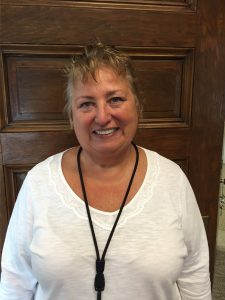 Sharon was already participating in the Salvation Army's monthly dinner program for people in need of food so she started distributing the hats there. Leah liked the idea of donating. "I thought that would be a good way for me to get into helping."
Leah herself was once saved by the kindness of strangers. "I lived on blood transfusions for quite a while," she says. "You really appreciate people that you don't even know that help you." Giving her crocheting to those in need was a way she felt she could help others in the same way that she had been helped.
"It seems like I make a lot," she says, in lieu of estimating her output. "That's all I do with my time. I sleep when I'm tired and I'm up and crocheting when I'm awake. The only thing I can do is my handiwork. Too bad I can't do it in my sleep!"
Sharon, however, estimates that she takes close to 200 items of clothing for donation every month, which is sometimes more than one single charity can find a place for at one time. "There were so many. I was taking the stocking caps down to the Salvation Army to give them out and the ones that were left over to the Union Mission Gospel," says Sharon. "Leah is like a factory."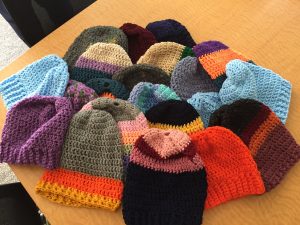 Unfortunately, the yarn required to make 200 or more hats every month is not easy to come by. "I don't charge for anything I do, but I do have to buy my yarn," says Leah. "I buy it used at sales, but it's not always easy to find. I have a couple of friends that buy yarn for me once in a while, but they can't begin to supply me with what I use. I use so much in a month's time that just a couple of people buying a ball of yarn once in a while doesn't cover it."
Leah insists that she will crochet—and keep up her current pace—as long as she has the supplies. "I know there's used yarn out there," she says, "Some people are just a little slow about getting it out of their crawl space, or wherever they hoard their stuff like that."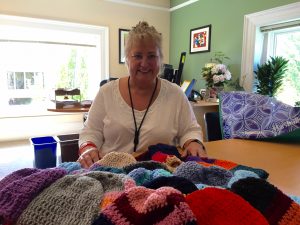 Sharon says she would love yarn donations so Leah can keep going, and that anyone with yarn to spare should send her an email. "She's doing good work for people who are in need. She enjoys doing that she's contributing and it really helps people who are cold at night."
"A lot of people tell me they don't crochet anymore because they've got bad fingers," Leah says. "Well, I've got bad fingers too; I just crochet upside-down. You just have to find a different way of doing things, if you want to continue doing it. And I do."