Dylan Mooers is equal parts athletics and academics – a 4.0 student and self-described "math and science guy" who excels at both football and track.
Because of that fact, it's surprising he had never heard of the LEAP Committee before as it seems tailor-made for the multi-talented Tumwater High School junior.
LEAP, which stands for Leadership through Education Activities and Personal development, is a program within the Washington Interscholastic Activities Association (WIAA).  This organization represents the voice of more than 250,000 student participants in high school and middle school athletics and activities in Washington.
"The WIAA LEAP Committee has become a priority of the Association to make sure the voice of the students are given an audience," WIAA Executive Director Mike Colbrese said.
Kellie Graham, the administrative and athletic assistant at Tumwater High School, believed Mooers would be a perfect fit for LEAP and encouraged him to apply.
"I had never heard of it before. It wasn't until Mrs. Graham emailed me about it. She thought it was something that would be a good fit for me," Mooers said. "I looked into it and saw it centered around sports and academics and just thought it would be a real cool committee to be a part of so I applied for it."
Graham's assessment proved to be correct as Mooers is one of eight incoming juniors from around the state of Washington who were recently selected to join the LEAP Committee.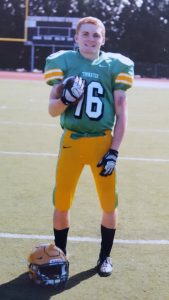 Joining Mooers are fellow juniors Kathy Le (Foss High School), Jade Chamberlin (Connell High School), Aaron Davenport (Cedarcrest High School), Tabitha Messineo (Puyallup High School), Lexi Mikkelsen, (Lakeside (Nine Mile Falls) High School), Ford Powers (Chiawana High School) and Eddie Rojas (Lake Washington High School).
Students were selected following an application process which included an online application, an essay detailing the importance of athletics and academics, three letters of recommendation and a video presentation on their school and why they should be selected.
A record number of applicants applied this year. The juniors will serve a two-year term and join eight seniors who just finished their first term during the 2015-16 school year.
"We haven't met yet, but I'm definitely excited," Mooers said. "I'm looking forward to being a part of something that encourages better academics for athletes."
Entering its 10th year, the LEAP Committee represents the six WIAA classifications and the nine districts.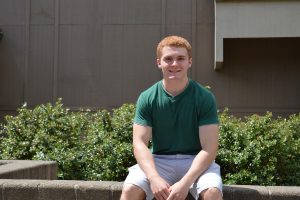 The Committee meets six times during the school year, including a retreat in August, providing direct student feedback to the WIAA. Meetings consist of guest speakers, leadership exercise, peer discussion and group projects.
With the added requirements with his LEAP inclusion, Mooers already busy fall schedule becomes even more stacked.
Academically, his upcoming class slate will include honors chemistry, physics, and AP classes in calculus, U.S. history and literature.
Additionally, he also is a member of the school's choir and a running back on the Thunderbirds' football team.
It was through the football program that Mooers was first introduced to Tumwater High School as he transferred from North Thurston Public School's Aspire Middle School, to Tumwater as a freshman.
"It was a little difficult transferring to a new school, but with football workouts (prior to the state of the school year) it made it a lot easier," Mooers said. "That helped me at the beginning of the school year with making more friends."
Football at Tumwater, which was the state runner-up in the 2A classification last year, also helped shaped Mooers' current approach toward leadership, a trait which should shine as a member of the LEAP Committee.
"A lot of has to do with the T-Bird creed – super tough, super unity, never ever giving up," Mooers said. "It all just stems from that and how it carries on beyond football and into everyday life. It's not just football, it's our whole life and beyond."
Mooers was able to carry that mindset over into the recent track and field season as he was elected as a team captain – a rarity among the program for a sophomore.
"At first, when they asked me to become captain I was a little overwhelmed," said Mooers, who competes in the 100, 200, 4 x 100 and 4 x200, "but once I thought about it and became calm, I realized it was great opportunity for me and something I could do."
In addition to attending the five meetings and retreat, each LEAP Committee member will write a blog about their school for the WIAA website and social media channels. The members also plan Coins for a Cause, a fundraiser that benefits Special Olympics Washington and InvestED, a program which supports secondary students in need of assistance, such as clothing, sports equipment and academic fees, at the state football and basketball championships.