Summer camp provides a lifetime of memories for so many people, whether being away from home for the first time, endless evenings around the campfire, or just long summer days spent with friends. Thanks to the South Sound YMCA's outreach and generosity, kids ages 6-16 can make new friends and learn new skills while having fun all summer long.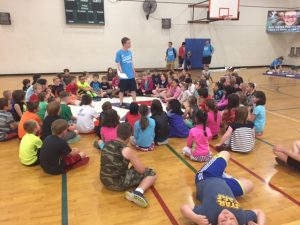 Camps take place at locations throughout the area, hosted by local schools, churches, and both Briggs Community and Olympia downtown Y branches. Campers can sign up for a single week or all summer long, with almost 5,000 already enrolled.
Downtown branch Youth Development Director Amber Wetzel admits that camp "has definitely grown and filled up a lot faster than usual" over the last few years. Assistant Director of the Y's Child Development Office Brenda Banning agrees; "we were maxing out last year" which is why they opened additional venues for this summer's crowds.
The weekly offerings are themed with subjects ranging from sports to movie making, cooking to Star Wars. There are typically 60-80 kids per site each week busily engaged in building, playing, and—ssh, don't tell—learning.
This year's camp format builds on small changes added last summer. Brenda explains that last year they "started things off with an opening ceremony and this year added an achievement component." But don't fret that the achievements are difficult, they include learning a new ability, making a friend, meeting a counselor, or describing that day's feelings. She continues, "It's a pathway to challenge themselves to a new skill, we're really excited and intentional about making relationships" as well as memories.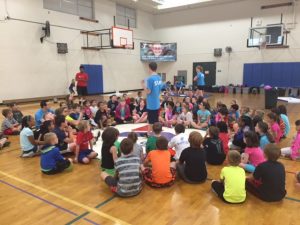 Teens and tweens are encouraged to come be Junior Leaders or Counselors-in-Training (CIT). Those aged 13-16 gain confidence, experience, and amazing volunteer time in leadership, training, and mentoring. Assignments vary by location and interest insuring even older campers have a summer-long blast.
One of this year's counselors is Kelli O'Reilly, a preschool teacher who started working with local YMCA branches in 1996. This will be her fourth summer helping with camps in Tumwater. "I just wanted to make a difference," says Kelli.
Kelli, who always wanted to be a teacher, loves that the South Sound YMCA echoes her belief that the "number one focus is to give each kid a safe place to develop memories and have fun."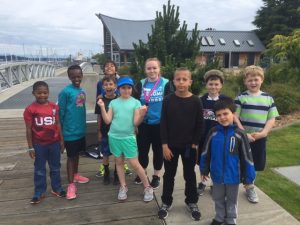 Other leaders are often Y-Care leaders who spend the school year providing before and after-hours care and approximately 35 summer-only hires between the two main branches.
So much of learning falls under 'Try it, you never know!' Let your kid's vacation minimize brain drain by staying active, engaged, and social while basking in plenty of vitamin D. Drop by and enroll them in a YMCA camp for the #BestSummerEver!
Registration is held with a $20 deposit but, as Amber reminds us, "plans change and then spots open up." Even if a particular week is only accepting wait-list enrollment, staffers encourage parents to add their kid's name to the list. A family who reserved multiple spots at the start of summer may go out of town or have unexpected company and that opens up spaces, often at the last minute.
Y members can sign up or join the wait-list online. Not a member? Drop by the Briggs or downtown Olympia branch or the Child Development Office at 108 State Avenue West in Olympia. Questions are welcomed over the phone but registration isn't available to callers.
For more information about the Y's summer camp or the South Sound YMCA, please visit their website or call the Downtown Olympia branch at 360-357-6609 or the Briggs Community branch at 360-753-6576.
Sponsored