ThurstonTalk's team chooses Olympia as our home base. Even as the company has expanded, the leadership team continues to work out of a small office in West Olympia.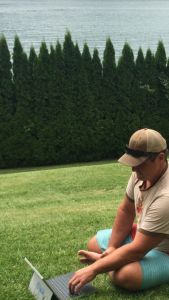 "From our Olympia office, we manage a team of more than 70 people around Western Washington. Our freelance writing team crafts positive stories about what it's like to live, work, and play in their communities and our sales team builds relationships with customers who want to share their story with local readers," shares editor, Amy Rowley.
Headquartered in Olympia, NorthAmericaTalk is the parent company for five community social networks focused on Thurston, Pierce, Whatcom, Lewis and Grays Harbor counties. The Olympia-based team handles all the publishing tasks and other back office administration duties and leaves the sales and writing to a local team.
"In each community, we have local folks that are passionate about where they choose to live. They create authentic stories that really describe the community," says Amy who often types from her home office on the Steamboat Island peninsula.
"And we can do it all remotely," adds founder, Dan Jones.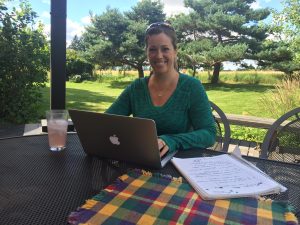 "It is exciting to have the technology and operations set up to support a team to deliver a high quality product while living their lives," says Dan who can often be found working on his back deck in West Olympia.
Joined by associated editors Kate Scriven, Margo Greenman, and Kristin Kendle, Amy and Dan meet Thursday to set the publishing direction for ThurstonTalk, SouthSoundTalk, WhatcomTalk, LewisTalk, and GraysHarborTalk.
But sometimes, it's much more fun to be traveling and working remotely, especially in the summer. "On one recent Thursday, our team was scattered throughout Washington. We were each doing what we loved while squeezing in some work hours around a schedule that works for each of us," says Amy before going for a bike ride with her family while on vacation in Cle Ellum.
On this same day, Dan was up at 4:30 a.m., powering through some technical projects, so that he could waterski later that morning on Lake Chelan.
Most Thursdays, you can find the team in Olympia behind their laptops, discussing SEO best practices, fine tuning a publishing calendar, or building new products that benefit our readers and customers.
"I love being able to work remotely," says Kate from her parent's porch in Spokane on this particular Thursday. "I can plan my job around my life instead of my life around my job, keeping my family as my top priority. Having the flexibility to work wherever the road takes me enables me to share the information ThurstonTalk readers want while allowing for a lifestyle that I want."
"Working remotely means my 'office' can be anywhere that has a Wi-Fi connection. Most days that means working from home at my desk, but when I need a change of scenery, I can easily grab my laptop and go work at a coffee shop — anywhere in the world," Margo says while reviewing some publishing policies with Kristin at a Tacoma coffee shop.
While most of the Publishing team will be back in Olympia on Thursday, you never know where in the world we may be typing an email, answering a call, or simply hanging with our families. We always seem to come back to Olympia.
ThurstonTalk is a digital media company sharing positive stories about people, places and businesses in Thurston County. ThurstonTalk offers content marketing and online options across our Community Social Network to advertise in Olympia, Lacey, Tumwater, and beyond.  Advertise with ThurstonTalk to reach your target market, grow your brand, and measure results.