The purpose of a staffing agency is to match employers with employees. The most consistent matches occur when the agency has the ability to build relationships with the staff and understand the needs of the clients' organization. However, large national staffing organizations are often located far away from the employer and employee leading to unfamiliarity with region, clients and staff.
Having worked for a national staffing agency, Matt Noren started Health Pros Northwest in 2010 after realizing a better way to service clients as well as fill an unmet need. It became evident to Noren that medical and dental staffing solutions were not consistently being provided to correctional facilities in the Pacific Northwest. It was at that point that the concept of Heath Pros Northwest was born.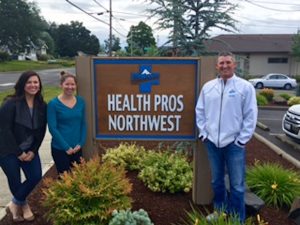 Health Pros Northwest is located in Chehalis and specializes in providing temporary and permanent medical staff to correctional facilities and Indian Health Clinics throughout the Pacific Northwest. The focus of the company is to work with the local and rural communities, streamline the hiring and contracting process, and build relationships with the clients and staff.
Bethany Stout, Health Pros Northwest recruiter says, "We are definitely unique. There are a ton of staffing companies out there who do so many different things in different states and locations. What separates us from the average is that we are specialists. We only staff at two types of facilities – correctional facilities and Indian Health Clinics. We hire specific skills for a specific location."
"Because we know our clients and staff so well, we are able to offer a lot more consistency with scheduling and hiring," continues Stout. "We can find the right person for our clients – not just a person. We take great pride in being a reliable small business that builds relationships with each staff and client. They always know who they are going to talk to when they call and they know they can reach us 24 hours a day. We know how reassuring this is."
Health Pros Northwest contracts with the Department of Corrections in both Oregon and Washington as well as county jails, Indian Health Clinics and King County Public Health Facilities. The agency recruits a variety of health care providers but typically has the most need for nurses and especially in remote locations, where they can provide accommodations in the company owned travel trailer.
Stout explains, "Many of our staff are people who are wanting to try something new and different or want a more flexible schedule. Our staff are experienced health care providers who may simply be seeking supplemental income. They have a regular Monday through Friday job but want to pick up additional work on evenings or weekends. Some are stay-at-home parents who want to just work two days a week when their kids are in school. Or others enjoy the flexibility of working for a short period of time then taking time off. However, mostly our staff like the variety of the work."
"We appeal to those health care providers who do not necessarily want to work in the same setting every day and want to work with those presenting diverse medical needs or possibly mental illness," she says. "For example, in a prison you are working with offenders and you are covering every style of nursing. You need to be an emergency room, work with chronic illness, complete physical assessments and manage psychiatric needs. In Indian Health Clinics it is instant care for all people in the Tribe and occasionally local non-Tribal families who do not have a local doctor. And in the King County Public Health Facilities you are treating low income, uninsured or underinsured in the dental clinics. Overall what we offer is a setting for health care providers to gain and use different skills in a well paid position."
Karen Richardson, LPN, currently placed at one of Health Pros Northwest jail locations in Snohomish County shares, "Health Pros Northwest is definitely the exception and not the norm in staffing agencies. I am so appreciative that they are so involved, caring and truly concerned for all of us agency nurses."
In addition to the importance placed on developing strong relationships with clients, Health Pros Northwest also is an avid community supporter. "In an effort to contribute to the communities we serve, we have made it a priority to provide scholarships to the students of our local school districts," Noren explains. "We have provided scholarships to more than thirty students attending schools such as the University of Washington, Washington State University, Eastern Washington University, Central Washington University, University of Hawaii, University of Idaho, Boise State University, and several local community colleges such as Centralia, South Puget Sound and Grays Harbor Community Colleges."
"We are also active sponsors of the Willapa Harbor Baseball Association, Chehalis Little League, Willapa Harbor Youth Soccer Club, Willapa Harbor Softball Association, Adna High School, Winlock High School, Willapa Valley High School and even have sponsored our own traveling baseball team, the Health Pros Northwest Baseball Club. Most recently though, we gave scholarships to five students from Willapa Valley High School, where I went to school and also one to Adna High School," Noren adds.
To learn more about Health Pros Northwest visit their website or call 877-688-1136.
Sponsored