The sun is shining. Dog lovers around Thurston County have great opportunities for taking their companion out to enjoy the warm weather. Here are six great places to take your dog.

This trail in Olympia's Eastside is a great place to go for a short walk or run with fido. The sun shines through the trees but will keep you cool with the shade on those hot days. This nature trail has five entrances to explore and is about a mile long. Your pup will enjoy the fresh air and new smells at Mission Creek Park.
Thurston County Off-Leash Dog Park
The Thurston County Off-Leash Dog Park located in Hawk's Prairie is a popular place to play catch and interact with other dogs. This park provides a separate area for small and large dogs as well as water stations, sand pits, and a patio. The off-leash dog park is open from dawn to dusk every day. With five acres of space, you and your dog will have plenty of room to play.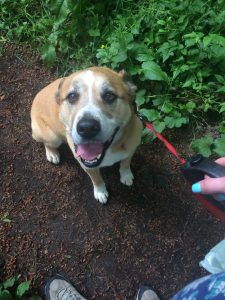 Priest Point Park has tons of trails to explore. The many trails will lead you to a beach which is a perfect place for your dog to cool off. The Ellis Cove trail is 2.5 miles long and will give your dog plenty of exercise and fresh air. Be aware that Ellis Cove can sometimes get muddy, so bring boots for yourself and a towel for your pet's paws.
For those really hot days, head to the fountain in downtown Olympia. Bring the whole family and run through the fountain for a quick way to cool off! Sit on one of the benches around the fountain and enjoy a snow cone or hot dog if you just want to relax.
Summer hours for the Heritage Park Fountain are Thursday through Tuesday 9:00 a.m. to 9:30 p.m. The fountain is turned off on Wednesdays and daily from 12:00 p.m. – 1:30 p.m. and 5:00 p.m. – 6:30 p.m. each day.
Thurston County resident Ted Thomas loves LBA Woods. "It's great because I can walk there from my home," he said. The LBA Woods offers some shade for those hot mid-summer days, and the park and running track offers places to sit in the grass and relax or get some exercise and take a run.
If you want to go swimming with your dog, Pioneer Park is the place to be. Pioneer Park lies along the Deschutes River so your pup can get their paws wet to cool them off. Carolyn Scafidi loves Pioneer Park because it's fresh water, meaning easier clean-up since there is no sat sticking to your dog's fur.
No matter where you are in Thurston County, there's a place for you and your dog to enjoy the sun or cool off.
Thrifty Thurston highlights inexpensive family fun in Thurston County. The weekly series focuses on family-friendly activities throughout our community. If you have a suggestion for a post, send us a note at submit@thurstontalk.com. For more events and to learn what's happening in Olympia, Lacey, Tumwater and the surrounding area, visit our complete event calendar.