Submitted by Meconi's Italian Subs
Meconi's subs are a staple lunch or dinner choice around Thurston County, but starting June 13, Meconi's will have three brand new items on their menu to tempt diners throughout the heat of summer. 
"We are launching three new salads just before summer, as we know our customers especially enjoy a cold salad on a hot day," says Operations Manager Robin Vaughn. "We have a LOT of sub choices, but our salad menu has only included a Chef Salad, a Chopped Salad and a Grilled Steak or Chicken Salad.  We wanted to offer a bigger variety of salads to our customers."
The crafty cooks at Meconi's have tested and tasted many recipes and come up with their three favorites that are now available for everyone. The new salads are: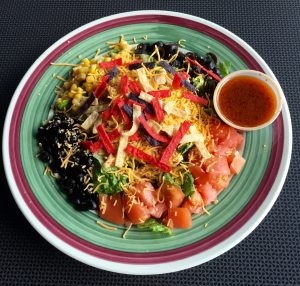 Asian Sesame Salad – Chopped romaine, crunchy won ton strips, sliced almonds, mandarin oranges, house made Asian Sesame dressing.
Southwestern Tortilla Salad – Chopped romaine, black beans, corn, tomato, olives, shredded cheddar cheese, crunchy tortilla strips, house made Southwestern Dressing.
Caesar Salad – Chopped romaine, shaved parmesan cheese, croutons, caesar dressing.
All three of the new salads can be prepared as a vegetarian salad or can have chicken added to them.
It's not just salads that are new on the menu, either.  Meconi's, in response to many requests from their customers, have added a dedicated vegan sub to the regular menu. The sub starts with Meconi's signature homemade roll and is stuffed with shredded lettuce, sliced tomato, cucumber, onion and oregano.  Customers can then customize their sub by adding any extra condiments to their sandwich (at a nominal charge).  Olives, pickles, pepperoncinis and jalapeños are a few of the vegetable add-ons available.
Stop into one of Meconi's four Thurston County locations – Hawks Prairie, Lacey, Downtown Olympia, or Tumwater – and try one of their new salads. With high quality, fresh ingredients and homemade dressings, these salads are sure to please.