There were so many other places David Woodward could have been.
He could have been in the weight room, pumping iron and getting ready for his dream-come-true opportunity to play football on a scholarship at Utah State University. He could have been home, goofing off with friends as they watched TV.

Certainly, no one, not even Woodward, expected him to be standing atop the award's platform at the 4A state track meet. Woodward, a senior and a three-sport star at Olympia High School, had just done the impossible. On his final throw in the javelin competition at the state meet, Woodward, throwing into a strong head wind, went from sixth place to first place when he uncorked a throw of 188-feet, 1-inch, a personal best.
"He's a competitor," said Jesse Stevick, Olympia's head boys track coach. "It was exciting. He really went after it."
Until that final toss, Woodward's best throw in the meet that day was 175 feet. And then, with the odds against him, Woodward did the unexpected. He became a state champion, bettering his personal best for the season by over three feet and over 13 feet for the meet.
"As soon as it came out of my hands I knew it was going to be a good one," Woodward said.
It was a revealing accomplishment, a moment of victory that defines Woodward. As an all-league pick in football with a D-I scholarship, as a starting forward on his school's basketball team with an 11.4 scoring average, Woodward could have been preoccupied, indifferent to track. But Woodward, who didn't even start throwing the javelin until last year as a junior, did what he always does. He gave it his best effort.
"He's got a good work ethic," said Drew Stevick, Olympia's throwing coach and Jesse Stevick's father. "He's very coachable."
And, Woodward will tell you, he's very fortunate. He nearly scratched by stepping over the throwing line on his last throw. He discovered that when he watched a video a friend had taken of him making his winning heave on his final attempt.
"I was like an inch from scratching," Woodward said, emphasizing the word inch. "It was really, really close."
Woodward is familiar with comebacks, with dramatic moments. He's experienced that making a diving tackle in football, catching a running back from behind. He's experienced that swishing a baseline jumper over the outstretched arms of a defender, sparking a comeback win. Those moments of achievement are all life lessons.
"Mostly, you learn about how to overcome adversity," Woodward said when asked what sports have taught him. "Also in basketball even when you're down you learn to keep fighting and to comeback, never give up."
Woodward also learned the lesson about never giving up when he injured his back playing football his sophomore year, breaking two vertebra is his lower back. With the doctor's and his parent's approval, Woodward didn't quit playing football. "They knew I really wanted to play football."
"Doctors said I had a better chance of hurting anything else besides my back," said Woodward, whose parents are Rhonda and Mel Woodward. "My parents were probably a little worried, but I always wanted to play football."
Sports have had a big influence on Woodward's life. He started playing football, basketball and baseball when he was in first grade. From those early days, Woodward had a dream. He wanted to play college football.
"It was always football," Woodward said. "I knew if I put more time in basketball or baseball that I could do it possibly, but I always chose football over the other two."
At 6-foot-3, 200 pounds, Woodward played offensive and defensive line for the Bears. At Utah State, Woodward, who was also offered football scholarships from Eastern Washington, Portland State and the University of Hawaii, will play outside linebacker. With his size and his speed – he's run 40 yards in 4.6 seconds – Woodward has a bright future with Utah State.
Now, on June 19, just two days after his high school graduation ceremony, Woodward will begin his next journey when he goes to Logan, Utah, to take two summer school classes at Utah State and to start working out with his new teammates.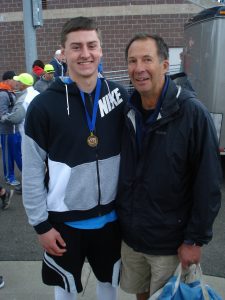 It's a dream come true because of hard work. Among the memories he'll take of him playing sports for the Bears will be that final toss in the javelin.
"There's a lot of bad moments in sports," Drew Stevick said about Woodward's winning throw. "It's really good to have a good moment like that. That's a great one."
It's something he'll carry with him for the rest of his life, helping him to persevere.