On an unseasonably warm April afternoon, my house felt muggy and the air was stagnant. I didn't have to listen closely to know that our 15-year-old heat pump wasn't running. I can be five or six houses down the road and hear that machine rumbling. Alas, the heat pump had lived its life. We had been band-aiding it together for the last few years and knew it was likely to quit soon. However, a heat pump is a spendy item that you don't realize you miss (sometimes desperately) until it's not working.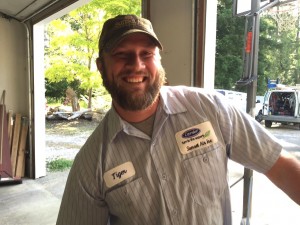 After a check by a Sunset Air technician, who confirmed that the repair costs outweighed the replacement costs, we got on the schedule for a heat pump installation.
On a bright Wednesday morning, two Sunset Air trucks promptly rolled into our driveway. Sunset Air's retrofitting crew was staffed by Tiger Hankins and Andrew Brock, who were joined by electricians Garrett McLeese and Tanner Sample. This crew is part of four two-person teams that are out in the field day in and day out, representing Sunset Air.
With more than 15 years experience in the HVAC industry, Tiger was the lead on the job. "I was based in Tacoma," Tiger says of his previous job. "I didn't get home early and my kids were tired of me working late. When my buddy told me about the job at Sunset Air, I jumped on it."
Tiger has been with Sunset Air for almost two years now. "It's an all-around good company," he says. "I have four kids and [Sunset Air] has been very flexible with my schedule if I need to take time off."
Andrew agrees with Tiger and adds that Sunset Air has been great with training him on-the-job. "Sunset Air focuses on quality," Andrew says. "Our installation teams don't just throw together a project and hope it works. Instead, we are trained to know what we're doing and why we're doing it."
Working at Sunset Air
Randy Norris is Sunset Air's Residential Manager. Along with many other duties, Randy is responsible for hiring and training the team. "A positive mindset is one of the first traits I look for in an interview," he says, stressing that experience in the construction industry is a plus.
Sunset Air has developed an extensive training program. Randy says, "We find that employees who are committed to Sunset Air and go through our own long-term training process often become our best employees."
Randy explains that most of the retro-fit installers work as two-man teams, comprised of one seasoned veteran and a newer apprentice. The more junior team member is rotated to work with different leads during the training process. "This gives our apprentice the most well-rounded experience with exposure to each lead installer," says Randy.
Teaming with Electricians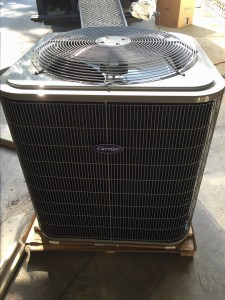 As Tiger and Andrew continued their focused work, I asked them a bit about what they were tackling in my garage.
Tiger walked me through the steps. The crew first dismantled our old system. The old unit will be scrapped and the available metals will be recycled. Garrett and Tanner safely disconnected the electrical before Tiger and Andrew began installing the new heat pump. "Part of our job on this project is to make sure the breakers are the right size and that we have brought everything up to code," explains Garrett as he works on the outdoor panel.
An electrician for more than three years, Garrett stayed on at Sunset Air after completing his apprenticeship. "I like everything about working for Sunset Air," he says. "They treat me well and it's a stable job."
Tanner, still in his apprenticeship, teams up with Garrett to "wire whatever the installation team needs."
Safety and Quality at Sunset Air
"Sunset Air's number one goal is to keep our employees safe in an unpredictable environment," Randy explains. "Having two-person installation teams is one way Sunset Air achieves this goal."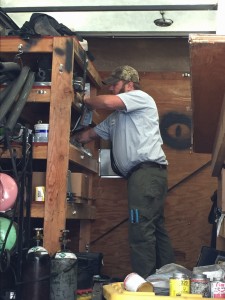 When asked how Sunset Air's service compares to the competition, the crew was quick to point out quality products and a satisfaction guarantee. "We do take responsibility for any and all of our installations," says Randy. "If it is ever discovered that a portion of our installation requires any form of correction due to our workmanship, we will always make those corrections at no charge — even if several years have passed after we performed that job."
"Many HVAC companies have come and gone in the past 40 years," Randy summarizes. "In March, Sunset Air celebrated our 40th anniversary. Our customers can expect that we will continue to be here for their needs."
Thanks, Sunset Air, for getting cool air moving through my house again.
To learn more about Sunset Air, visit sunsetair.com or call 360-456-4956.
Sponsored