Submitted by Megan Campbell
Our family moved to the Steamboat Island peninsula in 2014. Serenity began attending Griffin School during seventh grade and then enrolled in the Archery After-School Program, although she had never held a bow and arrow before. She simply signed up for fun and to see if it was something she enjoyed.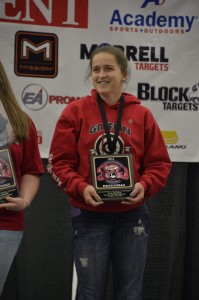 Almost immediately, Coach Paul Whitney knew that Serenity was a natural at the sport. Within a couple of practices, Paul told us that he thought Serenity would be able to place in the Washington State competition to qualify for nationals in Louisville, Kentucky. We knew that she was gifted in archery and decided to get her a bow and a target to practice at home. Serenity started practicing almost daily at home, and just kept improving.
Approximately six months later, we went to the 2015 NASP State Competition in Ellensburg, Washington where Serenity took third place for female archers, qualifying her to shoot in the 2015 NASP Nationals competition in Louisville, Kentucky. We were so proud of Serenity and extremely excited for her. This was Serenity's first time competing in any archery tournament.
Subsequently, in May 2015 we ventured with five other teammates from Serenity's Griffin Archery Team to the 2015 National NASP competition in Louisville, Kentucky. What an amazing experience it was to see 230 targets and 460 archers set up to shoot all at once. There were so many venues, extra games, and archery activities for the kids to enjoy. Nearly 12,000 archers attended the NASP National Competition and it was definitely a huge accomplishment for Serenity to qualify for and participate in this event.
This year, Serenity wanted nothing more than to qualify for the 2016 NASP World Competition. She not only qualified, but Serenity placed 1st in the 2016 NASP Washington State competition, breaking the state record with a score of 288/300! Serenity received a $1,000 college scholarship for being the highest scoring female for all school ages. Serenity was beyond excited and proud that all of her hard work and hours of practice she did at home and at school actually paid off.
For a second time, we headed to the NASP National competition in Louisville, Kentucky.  This year she placed fourth in Nationals for the IBO 3D shoot with a score of 289/300 and qualified for the NASP World Archery Competition in Myrtle Beach, North Carolina.  This was only the second time Serenity had ever shot at 3D targets and she did amazing.
We will be heading to Myrtle Beach, North Carolina on June 22 where Serenity will be contending in the 3D IBO Archery Competition. Serenity is extremely proud that she qualified for World this year since the high school she will be attending does not offer an Archery Program yet. Therefore, this may be Serenity's last year to participate in the school-sanctioned sport.
The Griffin School Archery Team has broken multiple state records and also has become the first team from Washington State to qualify for the National NASP Competition.
The Griffin Elementary School team took first place in Washington State, and the Griffin Middle School team took second place in the state. The elementary school team qualified for the World 3D IBO Archery Competition as well.  The middle school team missed qualifying for World by only one point this year.  We're very excited to see the team grow, and the after-school archery program has a waiting list of kids who would like to participate.
Travel help request:
All out of pocket expenses for traveling to these various competitions are paid by the parents, the coaches, by fundraising and donations. We have started a GoFundMe account to help with funds for Serenity and her family to go to the World Archery Competition in Myrtle Beach, North Carolina. If you would like to support Serenity in her next venture please visit http://www.gofundme.com/24uh4jw.
Any donation would be greatly appreciated. Business entities or anyone wanting to make a donation for credit as a tax write off can donate directly to Griffin PTO with a notation of World Archery Donation. Please feel free to mail your donation to:
Griffin School
Griffin Archery Team c/o Paul Whitney
6530 – 33rd Ave NW
Olympia, WA 98502
All donations will be used for registration fees, travel, and other associated costs of getting these archers to Myrtle Beach, North Carolina.  We will be trying to put together another local fundraiser before we head to Myrtle Beach as well.
Thank you for your support of the Griffin Archery Team.