Submitted by Shanna Stevenson for Lacey's 50th Anniversary Committee
Women have always been a part of Lacey history. From earliest times, Native American women and their families frequented the areas around present day Lacey. After Euro-American settlement, Native American women often bridged cultures. One of those women was Nancy Jim Parsons, a Nisqually woman who married American settler John Parsons in 1892. She was a master basket maker who continued the tribal culture during the settlement era.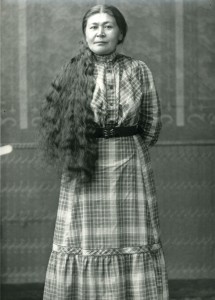 Many American women came over the Oregon Trail to become founders of Lacey. Margaret White Chambers and Elizabeth Harris Chambers married sons of the Chambers family, 1840s pioneers. Parents of eight daughters, Margaret and Andrew Chambers lived on Chambers prairie in the present area of Indian Summer. Elizabeth Chambers and her husband, David, farmed where Panorama retirement community is now located. Jane Wylie Pattison, who came to the Oregon Country in 1849, recounted the early days of settlement when her family first lived in a two-room cabin at their namesake lake.
Several women were Lacey-area postmasters, including Anna Bennett at Puget City after the turn of the century. Not an easy job–the mail came by steamer and Bennett had to row out to the vessel to collect and send the post. Anna Foy was at the helm of the Lacey Post Office from 1915 to 1954 at two Foy Stores on Pacific Avenue. Beloved by the "boys" at Saint Martin's, she and the Foy family are fondly remembered in Lacey. Agnes Franz Button Stebbins, born on Ruddell Road and a graduate of Lacey School, was also Lacey Postmaster from 1949 to 1964.
Well-known local teachers included Ruby Georgia McAllister, a descendant of Nisqually tribal member Catherine Mounts. A graduate of Bellingham Normal School, she taught in several area schools and later worked at the Cushman Hospital in Tacoma, caring for Indian children. Elizabeth Gardner Fleetwood, also a graduate of Bellingham Normal School, began teaching in 1916 and married Lyman Fleetwood in the 1920s. She was a longtime teacher in the Olympia, Nisqually and Lacey school districts until 1970. The daughter of John Melvin Hawk and Sarah Stevens, Lydia Jane Hawk married John Mayes in 1879. Her descendants donated land for a school and requested that it be named in her honor. The Benedictine Sisters at St. Placid Priory taught High School in Lacey from the early 1960s until the mid-1980s and continue to operate the Priory at the site.
Pioneer aviator Gladys Buroker learned to fly in 1932. She and husband, Herb Buroker, along with Gwin Hicks, opened a flying service at the Olympia Airport in the 1930s. She taught at Saint Martin's as a ground school instructor in the Civilian Pilot Training Program from 1939 to 1941, likely the first woman to teach at the school. With the outbreak of the war, she continued her work inland at Pasco and then Coeur d'Alene where she trained pilots throughout the war.
A native of Thurston County, Elizabeth Ayer was the first woman to graduate from the University of Washington School of Architecture in 1921 and the first Washington state registered woman architect. After a distinguished career, Ayer retired to Panorama in 1970 and served on the Lacey Planning Commission for ten years before her death in 1987.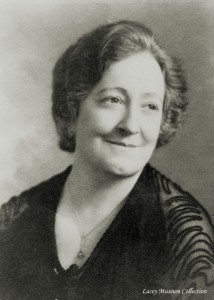 Community activists include Myrtle Emily Hicks-Simmons who was noted for her work to raise funds for polio victims, and in 1941 became a Deputy Sheriff and Matron of the County Jail. Hazel Hicks O'Keefe Hoffman was instrumental in the preservation of the Ruddell Pioneer Cemetery, organizing many chicken suppers and bake sales to raise funds to maintain the plot.
A pillar of the Lacey community is the Lacey Women's Club. In 1926, Lacey women decided to form a separate club from the Elephant's Club for men. At first called the Home Demonstration Club, they changed the name to Lacey Women's Club which endures today in their own clubhouse, built in 1937, where they continue their philanthropic work in the community.
When Lacey incorporated in 1966, Al Homann was elected Mayor and his wife, Anna Finnegan Homann, was his valued partner. The Homanns' recreation room served as the first city hall and the first fire department was headquartered in their warehouse. Anna was part of the family business as well as being active in the Women's Club, Zonta and Cowbelles. She was Grand Marshall of the MAD Festival Parade in 1979 before her death in 1987.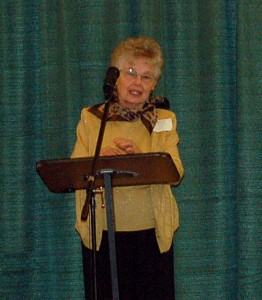 Although residents were served by a bookmobile before the city incorporated, Mary Russell was Lacey's first librarian beginning her work in leased space in Market Square in 1972. She later worked at rented space in the Lacey Village Shopping Center until her retirement in 1986. The next year, the city's new library opened next to city hall.
Lacey's own history heroine is Shirley Dziedzic who arrived in Lacey in 1960 with her late husband Gene. Active in Sacred Heart Church, she served for many years on both the Lacey Historical Commission and Planning Commission. A long time president of the Lacey Historical Society, she was an advocate for the Lacey School Memorial, preservation of the Gallagher House and headed the efforts for the Lacey Remembering Place garden near the Lacey Museum.