Among the 44,319 citizens of Lacey, Washington, there is a pair of twins ringing in at the grand height of 5'1". They may not be intimidating in size and even less with their frequently-sported signature grins, but their race times may raise a few eyebrows as well as the story of their diligent backgrounds.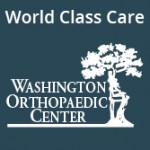 Lifetime natives of Lacey, Alexis Carandang enrolled in 2013 as a freshman at Saint Martin's University, but it wasn't until 2014 that she started to compete in collegiate sports. She considers her involvement on the cross country team to be a base for training for the indoor and outdoor track seasons, where she focuses on the 400 meter hurdles, the open 400 meter, 800 meter, 4×400 meter relay, and the indoor 400 and 800 meters. The rigorous year-round training has allowed her to compete in conference meets since her freshman year.
Ashley Carandang, on the other hand, joined the 60-female Saints roster in fall of 2015 after transferring from Gonzaga University as a junior. She did not participate in the Division I athletics at Gonzaga and joined SMU's Division II athletics rather unexpectedly. "Originally, I said I wouldn't with my schedule of classes, upper biology classes and then work," Ashley said. "But I decided to train for a half marathon in the summer with one of my friends at Gonzaga. So then I just ended up joining cross country…. because I would rather train with a team than by myself."
A year later with an indoor and outdoor track season under her belt, Ashley is competitive in many of the same events as her sister, including the 400 meter and 4×400 meter relay, in addition to the 100 meter, 200 meter, and 4×200 meter relay.
The Carandangs have kept their stride Siamese-style in every school sport extending all the way back to fifth grade track at Mountain View Elementary School. The journey from pint-sized playground running to the dusty red gravel at Komachin Middle School continued through Timberline High School, where the competition was kicked up a notch. The team aspects of on and off the field support kept these real-life doppelgangers coming back each season.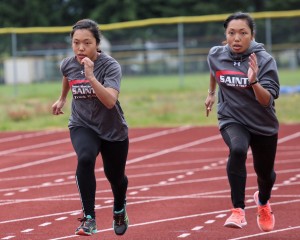 Many of the events that both Carandangs were competitive in as Blazers carried over to be their focus events as Saints.
Alexis considers her high school sprints coaches to be the key motivators in building the foundation that fueled her to the collegiate level. "I think my senior year my last coach really pushed me and told me I had more potential," Alexis said. She reflected with fondness on the memory of a race where her coach told her to run so hard that she could collapse, and he'd be waiting at the finish line to catch her.
However, there was a two-year period when the Carandang sisters were apart for college. Ashley was nearly 300 miles away in Spokane during the year at Gonzaga University before transferring to SMU. Originally reluctant to return to Lacey, she has since embraced a renewed life in Lacey.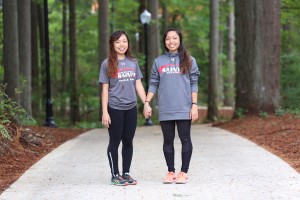 "It was hard letting go but I'm glad that I had the experience there," Ashley said. "But glad here when I made friends. It was different but at the same time, I had the same family base, friends, and my work here are also very supportive of me too. Both schools are great in their small community, closer-knit campus feel."
Looking at the Carandangs' plans for the future, Alexis puts her nose to the grind as a civil engineering major and Ashley studies as a biology major. As multi-sport athletes who have jobs during the week and achieve good grades with full-credit course loads, perhaps the post-grad future will be less demanding. These STEM majors will pursue careers that will add the biggest contrast to the courses of their lives yet.
Alexis has already completed one year of a two-year paid internship on the Puget Sound Naval Shipyard in Bremerton. She obtained the opportunity at a career fair hosted on SMU's campus and works forty hours per week, with duties that involve studying erosion and testing on submarines. Alexis predicts that she will stay at the base after graduation and the internship conclude.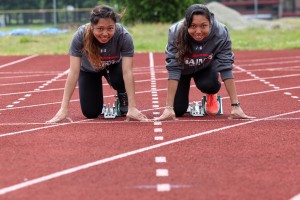 Alexis is hot on the trail of a career in structural work in civil engineering, with inspiration that initially began with her father.
"When I was younger, my dad was also a civil engineer and he went to this school [SMU]," said Alexis. "And then I just got interested in bridges and buildings, and I was always big into math. The idea of serving the community through that kind of stuff, that stuff sticks around."
Ashley's plans for the future have followed inspiration from a different family member, older sister Audrey Carandang, who also switched majors as an undergrad from nursing to biology, before going to pharmacy school. "She's shown me there's more than one path you can follow," Ashley said. Ashley is keeping her options open to be a physical therapist or to work in a research lab post-grad, with admiration for holistic health care and physiological interests.
Both twins humbly cite their family members, coaches, and teammates to be the motivators behind their success, and have special gratitude as they follow the hardworking footsteps of mother Antoinette Carandang.
"No matter how far you go, just remember where you came from," said Ashley.
These Saint sisters have one more year together on the track before graduation and professional careers will change their lives, but the bond that the Carandangs have will last from the womb to the tomb.