Brothers Wes and Richard Hinchcliffe were born at home in a house behind Roosevelt School in Olympia. They've lived most of their lives in the South Sound area. For a few years, though, they were miles apart, separated by oceans, continents, and the event endured by America's greatest generation, World War II.
Thomas Wesley "Wes" Hinchcliffe, 94, is taller than his older brother. He carefully chooses his words with deliberation. "Richard still thinks he is my big brother. He thinks he has to watch over me."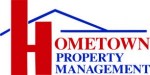 Richard Albert Hinchliffe, 96, is wiry and lively. "Well, I am his big brother. I do have to watch over him," he retorts.
The brothers live a floor apart in Olympia's Colonial Inn, a retirement apartment home. They use walkers to make their way around the halls. Staff and residents know the two men well. They greet Richard with hoots of laughter while their conversations with Wes are quiet and warm.
The brothers joke back and forth – Richard schooling Wes, all in good fun.
When the conversation turns to the war, the men are able to recall the names of ships they sailed on and where they went in the world. But, they don't talk about what happened. They are not alone. Many World War II veterans refrain from talking about their experiences in the war.
"We did what we had to do at the time," Wes recalls.
Richard, quiet for a moment, looks at his little brother and says "Yes, we did."
Wes served as a seaman on the USS Savannah, a cruiser patrolling the Mediterranean and the coast of Africa. The USS Savannah supported the Allied landing in Sicily and Palermo. In September 1943, while on duty in the waters off Algiers, a German radio-controlled bomb hit the armored turrets of the ship and shattered three decks before blowing a hole out the keel. They lost 197 crewman that day. Wes Hinchcliffe was one of the survivors.
Richard, a yeoman, was assigned to the USS Meredith, a destroyer, in June 1944, the ship escorted transport ships preparing for the strike on D-day. The USS Meredith supported the battle on Utah Beach protecting U.S. soldiers and sailors with shielding gunfire. On June 7, she struck a landmine. Badly damaged, she was towed out of the battle in hopes she could be repaired. On June 9, bombs dropped by German pilots struck her side and the USS Meredith split in two and sank. Richard Hinchcliffe was one of the 163 men who lived.
Both Wes and Richard were back in their hometown by 1946. They went to Saint Martin's College (now Saint Martin's University) on the G.I. bill, married and began raising families. Their experiences in the war remained in their past as their lives moved forward. Wes worked for the Washington State Patrol, Walla Walla State Prison, and Washington Correctional Center in Shelton taking fingerprints, photographs, and creating prisoners' files. Richard worked for the state office of Employment Security, Safeway, and Washington State Department of Labor and Industries wiring the pre-computer panels of electronic processors.
Wes and Richard moved to the Colonial Inn a few years ago. They bowled until just last year, enjoy the company of their fellow residents and treasure their visits with family. But there were still the memories of the USS Savannah and the USS Meredith. Something shifted. It was the arrival of the Honor Flight.
Dorothy Franklin, Richard's daughter, and Tom Hinchcliffe, Wes's son, saw a television program about Honor Flight, a non-profit organization created to honor America's veterans for the sacrifices they made. In 2005, Honor Flight started flying veterans to Washington D.C. All of the expenses are covered by donations. World War II veterans are given the highest priority. When the Puget Sound Honor Flight network heard about the Hinchcliffe brothers, their applications were accepted.
When Wes and Richard arrived at the airport, a fleet of wheelchairs and walkers were pushed down the gateway to the plane. The veterans and their escorts boarded the Alaska Airlines flight. They filled half the plane. The other passengers began to clap. Soon the voices called out, "Thank you for your service."
"It was a little overwhelming," Wes admits about the September 27 – 29, 2014 trip.
"It was exciting," Richard adds.
For three days, Wes and Richard toured all of the war memorials in Washington D.C. At the National World War II Memorial, school children greeted them as they got off the bus. The young people shook the hands of history. Some even said, "Thank you for our freedom."
People wearing period clothes from the 1940s greeted groups of veterans. They posed for pictures, holding the arms of the veterans so they could stand tall.
Richard said, "Wow! We took pictures with a lot of people—a lot of gals," he said winking.
Others asked Wes if they could hug him. He replied, "You might as well. Everyone else has." He smiled as we laughed.
For both Wes and Richard there was a moment in the midst of the merriment that reminded them of the reason they were there. A rope, crafted in bronze, connects the 56 pillars of the memorial. Sailors and soldiers place roses under the ropes in honor of those who paid the highest price.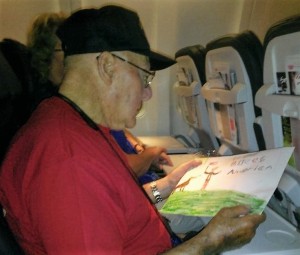 On the return flight, there was one last surprise. Staff delivered each veteran a "Mail Call," a thick packets of letters from their family, friends, children, and even strangers thanking them for their service.
"Reading the letters on the plane, it brought back all those memories," Richard reflected. "Everyone said thank you. They didn't need to do that. We just did our job."
"It made me get a little emotional," Wes confesses with tears shining on his face. "I wasn't sure I wanted to go. Right before the trip I wasn't feeling well, but I decided I should. I am glad I went."
When they got off the plane in Seattle, an active duty military personnel met every veteran. Attired in dress uniform, they escorted them through the airport flanked by US flags. In the atrium area, a final salute was given, and each humble hero was presented with a Quilt of Valor made by local quilters.
In ten years, the Honor Flight organization has transported over 159,000 World War II heroes on their one last mission. Sadly, approximately 800 World War II veterans die every day and will never see the war memorials in Washington D.C. For brothers Wes and Richard Hinchcliffe, the visits to the memorials, letters, and outpouring of gratitude from strangers, made those single roses under the rope easier to bear.