Bob Grisham believes in being a good host. It is, after all, part of Saint Martin's University's mission to extend Benedictine hospitality to guests and travelers. So when 32 teams come to stay during the state collegiate volleyball tournament, the school's athletic director believes it's important to make everyone welcome. "We want them to have a good experience," he says.
Aside from creating positive exposure, sports tournaments generate significant revenue for the entire region, just one reason Saint Martin's collaborates with the City of Lacey and the Olympia-Lacey-Tumwater Visitor and Convention Bureau (VCB) to attract high profile events like the state championship. The three organizations work together to design competitive bid packages to present at regional and national sports conferences.
"The collaboration is huge," says Grisham. "We've formed a really good relationship with the VCB. They're our partner in our bids to host GNAC (Great Northwest Athletic Conference)  tournaments.  It's allowed us to develop better inroads into the community and provide better support for people who come to these tournaments."
With the combined lure of Lacey's Regional Athletic Complex (RAC), Saint Martin's fields and facilities, and popular local destinations like Yauger Park and Stevens Field, the South Sound has attracted numerous high profile games and tournaments and continues to add more. "Tournaments at the RAC and Saint Martin's University create compression and increase occupancy in all of Thurston County," says Kyla Cavanaugh, Marketing and Sales Director for the VCB.
"We had the Washington Cup Soccer Tournament here recently at the same time as a fastpitch tournament was happening at Yauger and Stevens," says Sue Falash, RAC Manager for the City of Lacey. The RAC also hosts Narrows League fastpitch, three ultimate frisbee tournaments, and the Lakefair Volleyball Tournament as well as functioning as the home field for the Puget Sound Collegiate League baseball tournament that brings in baseball players from all over the country.
Cavanaugh also emphasizes the exposure such events create for the area. "These tournaments draw people in from all over the region – Alaska, Idaho, Oregon, and Northern California," she says. Depending on their age, players may have their parents along for the ride. "Anybody who has kids that play sports knows you travel all over the place," says Falash. "There are places that I've gone that I would never have been otherwise. Having the Capitol here definitely helps."
Location also matters, according to Grisham. "It's a huge plus to be as close as we are to Seattle and Portland," he says. "Hosting events raises the visibility of our athletic program and our facilities, which is good for the university and for the area."
More importantly, once here the players and their entourages need places to eat, sleep, and wind down. "I think the biggest impact for the area is economic," agrees Grisham. "When you look at the volleyball tournament, we had 32 teams coming in from across the state. That's a lot of rooms and a lot of meals."
"They're staying the night in our hotels and spending money in our restaurants," says Cavanaugh. "Typically, sports teams are going to be looking for gear while they're in town, which means that our retail businesses also benefit."
The process for attracting such events is highly competitive, and each league and association functions differently. Some require meetings and bids, while others function more like trade shows, with vendor booths representing different cities.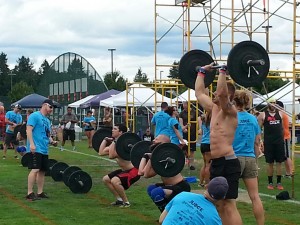 In either case, the VCB plays a central part in creating a compelling package highlighting the benefits of the South Sound. "We play several different roles," says Cavanaugh. "With Saint Martin's we put together data on driving distance from different colleges and provide information about restaurant and hotels."
The annual Teams Conference is one of the largest nationwide showcases for competing regions. At the conference, groups who run large events around the country visit various booths to find facilities that will meet their needs. "It's kind of like a backward trade show," says Falash. "This year we got a 3 on 3 soccer tournament."
Allen Sports Association (ASA) is another large national organization that produces everything from basketball and rugby tournaments to cheerleading competitions. With ASA, says Falash, "We have to go to a meeting and put our bids in, which then get voted on. We usually do their state and regional fastpitch tournaments."
While more traditional sports like baseball and basketball continue to thrive, in recent years lacrosse has been growing in popularity. "We've hosted five lacrosse tournaments in the past year. Next year we'll host ten," says Falash. "It's been pretty big in Seattle and Puyallup and now it's growing in this area."
In their ongoing efforts to attract and retain such events, the VCB is spearheading a sports task force comprised of facility and tournament managers in the area and representatives from city recreation departments. "We're providing a forum to look at our strengths and weaknesses as a sports tourism destination," says Cavanaugh. "We're looking at how to attract larger tournaments in our area." Hospitality, whether Benedictine or otherwise, will no doubt continue to be a draw.
For more information about the Olympia-Lacey-Tumwater Visitor and Convention Bureau, visit www.visitolympia.com or call 360-704-7544.
To learn more about Lacey Parks and Recreation, click here or call 360-491-3214.
Sponsored