Aging is inevitable. It's happening right now, even as you read this story. But, how you look at aging and how you handle the changes that will certainly happen to your body is entirely up to you.
Anne Schaadt reached her 50th birthday eight years ago and realized she needed to make a change. "I started thinking that I really wasn't in that good of shape," she recalls. The 25+ year veteran middle school teacher, currently teaching at Aspire Middle School, knew she needed to make a change.
Reaching outside her comfort zone, Schaadt signed up for 10 personal training sessions with Amanda Price-Salazar at Edge Fitness in Tumwater after attending an informational seminar hosted by the personal trainer. "I thought, 'There is no way I can do these things – not me!'" recalls Schaadt. She was at her heaviest at 250 pounds and her 5' 4" frame wasn't used to regular exercise.
The first sessions were a mental and physical challenge for Schaadt, but she stuck it out and soon was experiencing success. "I was doing stuff I never thought I could do," she shares. "I actually couldn't believe it but I started looking forward to each session." She was getting stronger and had more energy than she'd had in years.
However, Schaadt wasn't seeing the amount of weight come off that she really wanted. "The training alone worked for a while, but I had this delusion that I was eating well, and couldn't figure out why I wasn't losing more," she explains.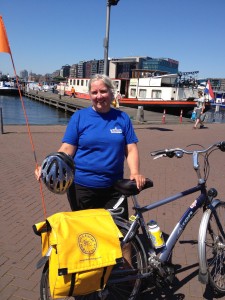 It was at this point she heeded the gentle nudging of her trainer, Price-Salazar, and started Edge Fitness's Nutrition Program. "It completely changes the way you eat," Schaadt says. "I will never eat the way I did before." Since adding the focused nutritional education and guidance to her training regime, Schaadt has dropped 50 pounds and is still seeing the scale trending downward.
However, being skinny isn't a goal for Schaadt. "I'll never be super-model thin and that's ok with me," she says. "For me, it's about being strong, healthy and able to do the things I want to do."
To achieve the many goals she has for the coming years, Schaadt knew she had to change up her routine, adding in new classes and activities beyond personal training. Price-Salazar suggested Schaadt take up running. "I don't run!" exclaimed Schaadt. But, with her trainer's help, and the goal of running a 5K through the Couch-to-5K program, Schaadt did run. And she liked it. "I'm not fast, but it feels good to run," she says, "and I can do it no matter where I am which really helps when you have a busy schedule."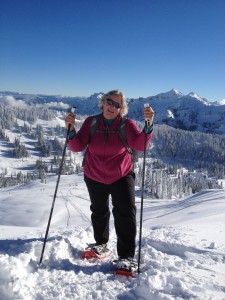 In addition to running, Price-Salazar encouraged Schaadt to join group training classes, held at Edge's Tumwater studio Monday through Thursday evenings and in the mornings on Saturdays and Sundays. "No way! I'd never do that in a million years!" Schaadt remembers saying. But, as with the running, Schaadt gave it a try and once again, really liked it. Now she attends a minimum of three classes per week and rarely misses.
"Amanda is so good at explaining each exercise during class and how to modify it based on injuries or fitness levels," says Schaadt. "She's so positive and encourages us, but pushes us to do more at the same time. I just don't want to stop and have figured out how to work it into my schedule and my budget – it's that important to me."
At 58, Schaadt says she is in better shape than she was in her 40s. "I'm stronger, leaner and healthier than I've been in more than a decade." With a family history of heart disease, diabetes and high blood pressure, the steps Schaadt is taking now will add years to her life and quality to those years.
While Salazar-Price is the anchor at Edge Fitness, the atmosphere of support and comradery also keeps Schaadt coming back for more. Her "gym community" is always encouraging and excited to see her, contributing to her sense of success. "You always walk out feeling like you nailed it. You feel amazed at yourself, at everyone in the class, and so proud. But, at the same time, you look to the next goal – if I did eight burpees, next time I'll try and do 10," she explains.
Workouts at Edge Fitness are now as much a part of Schaadt's life as her teaching or her hobbies. And she credits Price-Salazar for the positive impact finding fitness after 50 has made for her. "I feel like I owe her so much. Amanda helped me find a whole new life that I love."
To learn more about the programs offered at Edge Fitness, visit them online, send an email to info@edgefitness.com or call 360-790-6767.
Sponsored