Olympia has a storied running history. In 1984, our city was home to the first Women's U.S. Olympic Trials Marathon, and we haven't looked back. Daily, hundreds of local runners plod along Capitol Lake, taking in the sights while enjoying the exercise. Our community holds numerous road races and road running routes, but there are more and more runners who long for something more. They want scenic runs in nature, with trails instead of pavement. They want single track trails in forests, hoping for a chance to embrace the beauty of nature in the Pacific Northwest. These runners seek out trails in parks and natural areas, forming running groups and competing in awesome races through the wilderness around Olympia.

Trail running is quickly growing in both the Olympia region and the world. Where personal fame was once given to marathon runners racing along 26.2 miles of streets, it now isn't uncommon to see hundreds of brave souls eagerly waiting on a frigid morning, giddy to start a 50K (31+ miles) race up and down the hills and trails of the South Puget Sound on any given weekend.
South Sound residents are lucky to have some of the best trails and routes right outside our towns. From the miles of trails in Capitol Forest and our local state, county and city parks, to the trails in our nearby National Parks, we are blessed to be close to the most gorgeous destinations in the world, most of which can be run.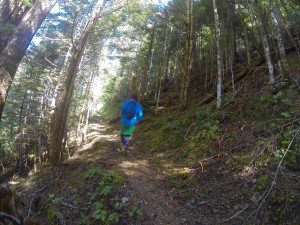 Mathias Eichler of Olympia is a local trail runner and a founding member of The Outdoor Society. He started out running on the roads, but soon found his true running form on trails, now avoiding road races altogether. Mathias wasn't always a trail runner. Starting out on city streets for convenience sake, he quickly fell in love with trail running and has been hooked ever since. His first half-marathon was the Hillbilly Half in Capitol Forest; and after running another half up to the summit of Mount Ellinor for The Beast of Big Creek, he completed his first marathon, the Mountain Marathon in Capitol Forest.
Many trail runners have a similar history. They find solace and solitude in the forests and on ridge lines all around Washington State, becoming addicted to the trails, distance and views. They connect with nature in a new way, pushing their bodies and brains in ways previously unknown.
"Trail running, in general, is a solitary activity for me," explains Mathias. "I love being in my thoughts and gather myself both mentally and spiritually. I love hiking and climbing in the outdoors and wanted to find a workout that would make me better at both."
Experiencing the best of our wilderness with each passing mile, trail runners, like Mathias, have become part of a close knit community full of encouragement and amazing weekend runs. One of the local groups, Guerilla Running, has created a few races that are perfect for runners looking for epic distances on amazing courses. OlyTrailRunners also organizes a few long runs on some great trails, including ultra distances in the Capitol Forest. For those interested in going a little further for a trail race, click to see a list of a few more incredible races in the Pacific Northwest.
"While Olympia is no Chamonix, France, home to the world's best ultra marathon courses, it does have plenty of parks, with the city seemingly adding more each year, so there are great opportunities to find some trails within a few miles from your home," said Mathias, when asked about trail running locally. "Olympia shines, as it is perfectly located within a short drive of great National Parks and Forests, offering hundreds of miles of trails that you'll never get bored of running."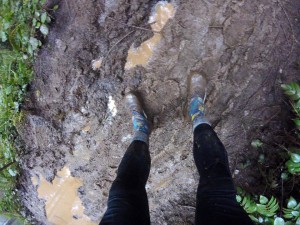 Here is a quick list of some trail runs around Olympia:
The suggestions above are just a quick sampling of possible trail running destinations. If you're looking for more information, visit the Facebook pages for Guerilla Running and OlyTrailRunners.  On these sites, trail runners post weekly times and locations for runs and activities.
You can also check out Mathias' book, Summit Book 2016, which has an excellent primer on trail running for beginners.