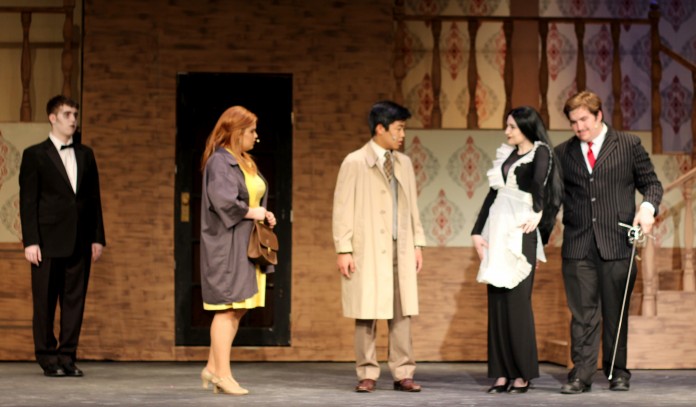 Capital High School has always been known for their outstanding theater program. Their newest production, The Addams Family, is based on the book by Marshall Brickman and Erick Elice, with music and lyrics by Andrew Lippa and the well-known characters from Charles Addams.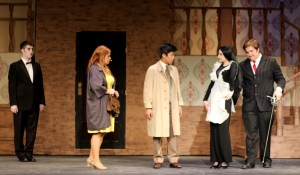 The play embodies the classic dark comedy that people know and love from the 1960's and is filled with music and dancing suited for the whole family. Capital's rendition is centered around Wednesday Addams, played by sophomore Ashleigh Adams. Wednesday meets a 'normal' boy named Lucas and in order for the relationship to flourish, the two families must meet. But Lucas and his family have no idea they are about to meet the creepiest and kookiest family in Central Park.
"The musical follows the family coming to grasp with the concept of growing up and growing apart which, even for them, is hard to deal with," shares senior Sophie Parody who plays Morticia, the Addams Family mother. "You get the same mysterious and spooky Addams vibe you're used to, but set to a great deal of music, dancing, and an oddly poetic coming of age story thrown into the mix."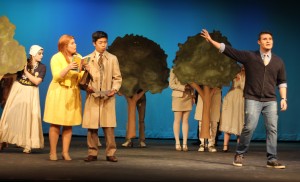 In addition to Wednesday and Lucas' love affair, the play also touches on the relationships of Gomez and Morticia Addams, Wednesday's parents, and Mal and Alice Beinike, Lucas' parents. "The play goes through the motions of how loves are lost, rekindled, and even [how they] begin," says senior Ryan Grey, who stars as Gomez, the well-known patriarch of the family.
The plays main cast of characters are Wednesday Addams played by sophomore Ashleigh Adams, Wednesday's mother Morticia Addams, played by Sophie Parody, Wednesday's father, Gomez Addams played by Ryan Grey and Uncle Fester Addams, played by Asher Entrekin. Gomez struggles throughout the story to choose between his wife and daughter. The cast also includes Pugsley, Wednesday's younger brother played by Sam Doyle, Granny played by Sophie Bustetter, and Lurch the butler, played by Mike Flo.
In addition to the Addams family, the play features the "normal" Beiniki family. Lucas Beiniki is Wednesday's love and played by Kameran Bustetter. Alice Beiniki is Lucas' mother and is played by Emma Sorenson. Lastly. Mal Beiniki, Lucas' father is played by Aaron Field.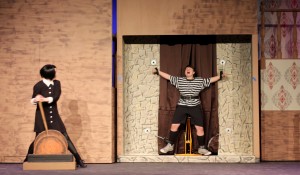 Ryan Grey says he is very excited to see Ashleigh Adams star as Wednesday Addams. "I mean, Addams is in her name," he laughs. "She was a perfect fit. That girl can sing and dance like nobody's business, and she really brings the character of the creepy Addams' daughter to life."
Adams is the star of the show and is excited for the audience to see the amazing choreography. "I am so excited for the audience to see the wonderful choreography that Heather Malroy created," she says. "The dances are filled with dark technique elements that fit each and every song as well as the actor who dances that part."
Adams explains that she grew up a child of theater.
I have pretty much grown up around the theatre. My parents both majored in theatre and my dad is currently the director at W.F. West High School in Chehalis where he has been directing plays for over 20 years. Broadway has always been a goal for me and my dream is to one day play the role of Glinda the Good Witch in the Broadway play Wicked. I have been singing for over 13 years and have been with a private voice coach for over 6 years. Some shows I've been in are Shakespeare Comes to Calamity Creek, Seussical the Musical, Pinocchio and now The Addams Family. I hope to continue this dream of mine for the rest of my years at Capital. 
Sophie Parody also has been involved in theater from a young age. "Ever since age seven I've been in plays, doing all sorts of camps and productions both inside and outside of school," she shares. "I think my first play was Alice in Wonderland, and I have been in a few other shows, notably Anything Goes, Into the Woods, and Little Shop of Horrors. I think I've been interested in the Addams Family about just as long, which makes this whole process a really personal and exciting experience for me."
Ryan Grey got a later start in theater than his co-stars, but he hasn't looked back. "I really got into theater my sophomore year of high school when my sister pressured me to audition for Capital's musical, Little Shop of Horrors," he remembers. "I played the voice of Audrey 2 and had a great time. I've been hooked with theater ever since." Since his initial debut at CHS, Grey has been a fixture in the school's productions. "I've been in plays and musicals at Capital for about three years and have had a great time bringing characters to life and telling stories," he says. "It's my passion for sure and I'm glad to be bringing the story of The Addams family to the stage for all to see."
The Addams Family is a family-friendly musical running for two consecutive weekends at the Capital High School Auditorium. Will the Beiniki family survive a visit with the Addams clan?  Will Wednesday and Lucas live happily ever after? You'll have to join the audience to find out.
The Addams Family
April 21, 22, 23
April 28, 29, 30
General Admission $10 / Students and Seniors $8
Capital High School Auditorium
2707 Conger Ave NW, Olympia
Box Office: 360-596-8053