Mike Michael, a once competitive runner, is now devoting his days to mentoring kids in the sport he loves – track.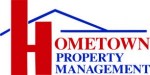 What began as simply sport to fill his elementary school days had transformed by his high school years into a passion and devotion. For almost a decade, Michael spent each spring doing what he loved – running. After years spent running around the track, Michael has transitioned to spending the past 17 years as a volunteer coach.
But what caused this nearly lifelong love for running? What kindled the desire to teach kids how to not just run around a track, but do it better and better? Michael's answer is simply, "experience."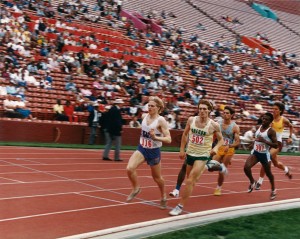 From his introduction to the sport in fourth grade up until his junior year at North Thurston High School, running was nothing more than a favorite pastime of Michael. It wasn't until his senior year that he finally decided to buckle down and start running with a purpose and with his future in mind.
Finishing in one of the top places at state track his senior year, Michael continued his running career at the University of Washington, affording him the opportunity to earn a degree in mechanical engineering. For four years Michael trained, traveled, and competed with the UW Men's Track Team. At his last race for UW in Vancouver, Canada, just after his warm down, Michael retired his running shoes and walked away from the sport, cold turkey.
Running competitively not only affected Michael in the area of athletics, but also touched different areas of his life
I love the sport and I know what it did for me, not just in the sport, but the sport has a lot of things that transport into life in general. It builds confidence and it builds character. You know how to persevere through a lot of hard things because you're always pushing yourself to do things that you didn't think you could before. Once you find out you can, that 'can do' mentality sticks with you for life.
Running impacted Michael's entire life. He attended college and gained life skills such as self-discipline, perseverance, and teamwork that stayed with him long after his days at UW. Eleven years after his final race, Michael re-entered the running community, this time as a coach. Michael recalled the constant inspiration he gained form his coach at UW and knew that coaching runners not just on the track, but also in life, had impact well beyond meet results.  He resolved to pass this along as a coach through his time, energy, and love for the sport.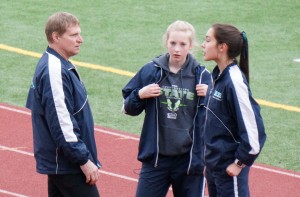 It has been and always will be about the kids, claims Michael when speaking about his volunteer coaching. "I coach the kids because I get a lot of enjoyment from watching the kids go through what I went through, what they're learning, and what it's going to do for them. You can always see when 'the light bulb comes on' in a kid during a certain race, that they get it. All of a sudden they push through these barriers they never thought they could," he explains. Watching the kids learn and grow is all the pay-off he needs. He feels running is about 80% mental and 20% physical and helping kids to believe in themselves is where his real enjoyment comes from.
Michael began coaching at River Ridge High School in 2000 and transitioned in 2014 to coaching at both Community Christian Academy and Northwest Christian High School when his son joined the CCA team in sixth grade. Michael followed this first group of kids all the way through graduation. Many of his athletes have won state championships in both track and cross country and many have continued running on college scholarship. Michael is reluctant to take credit for his athletes' successes, but is extremely proud of their accomplishments, staying in touch with them as they continue their running careers.
During his nearly two decades of coaching, Michael has given kids the tools and opportunities to build successful lives for themselves. Keith Gill was a senior when Michael joined the River Ridge program. Although he coached mid-distance events and Keith was strictly a hurdler, there is no doubt in his mind that Michael impacted his development. Now, many years out of high school, Keith says, "I can remember vividly his inspiration, confidence and compassion towards me.  He always went out of his way to ensure I was in good spirits and was there for me whenever I needed him."
Modeling after his UW coach, Michael not only focuses on running ability and potential, but also on personal potential. Michael spends hours creating individual workout plans tailored to each kid, consulting with athletes' parents, checking and running times, and organizing practices and meets. He counsels his athletes when they come to him with everyday problems. Hailey Bredeson, who ran with Michael for seven years, says,
He encouraged me to believe in myself over and over again, reminding me to take some risks and go after my goals. I have learned to stay motivated, persevere, encourage myself and others, take steps of courage, work hard, and maintain a perspective on life that allows me to see the big picture." Hailey is now a collegiate runner at Cedarville University where she says, "I sometimes hear his voice in my head reminding me to be fearless of failure, pursue my dreams, and believe in myself no matter what.
Michael has impacted so many families in our community through his time, talent, and passion for coaching kids.
Mike Michael is not only a track coach and mentor, he's a life changer.