As a teacher and mother, I have witnessed the power of reading first-hand. Listening to stories can bring expansive growth to young minds and allow children of all ages to take a trip without ever leaving the room. The variety of stories and people telling those stories can shape a child's language and imagination. Story time is an essential part of any child's day and there are plenty of places across Thurston County to take your child for an adventure through a book.

The Timberland Regional Library's five Thurston County locations (Lacey, Olympia, Tenino, Tumwater, and Yelm) provide a vast selection of reading activities. Youth librarians run reading groups for different age levels and are very knowledgeable when it comes to the best selection for an individual child.
The Lacey location hosts a toddler story time each Tuesday at 10:30 a.m. This time isn't limited to just listening to stories. It also has games, rhyming, and movement activities. Toddler story time is recommended for children age 2. A similar story time for preschoolers is scheduled for every Thursday at 10:30 a.m. and is recommended for children ages 3-6.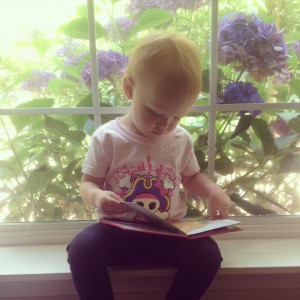 The Olympia branch includes a program called, "Book Babies." This weekly Tuesday morning event is focused on discovery of early language for children birth to 24 months. Similarly to other locations, they also have a weekly toddler story time Thursdays at 10:15 a.m. and preschool Wednesdays at 10:15 a.m.
In Tenino, the library serves the whole family at one time. Every Wednesday, at 10:15 a.m., the library focuses on the development of children ages 2 – 6 years old to take part in crafts, songs, rhymes, and stories. Older children are welcome as well.
The Tumwater location has the most encompassing program with preschool story time twice a day on Tuesdays (10:30 a.m. and 1:00 p.m.), toddlers on Thursday (10:30 a.m.), and Book Babies twice on Fridays at 10:15 a.m. and 11:00 a.m. This library also has a program for infants on Wednesdays at 10:30 a.m.
At the Yelm location, librarians provide a toddler story time program every Wednesday at 10:30 a.m. and a preschool story time every Thursday at 10:30 a.m. Parents or caregivers are required to attend these events with their child.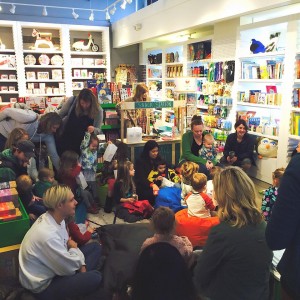 This downtown Olympia store is so much more than a place to buy toys. Captain Little has quickly become an essential part of our community hosting public events including monthly story times. While many of these books are read aloud by the wonderful staff, the store also invites local authors to read within the cozy setting. To get the latest on events happening at Captain Little, sign up for their newsletter.
When asked in the store's newsletter why Eric Ode enjoys performing story time at Captain Little his reply was simple. "The store is fantastic! So welcoming and open and bright. And every piece of stock on the shelves feels carefully hand selected. Everything is quality and has the well being of the child in mind."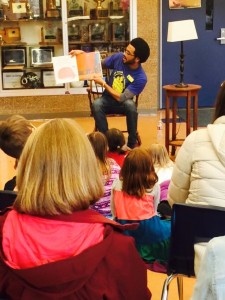 The South Sound Reading Foundation is the leading reading supporter in our area. Along with regular visits to local Head Start preschools (including West Olympia, Hawks Prairie, and Rochester) and reading programs at local libraries, the non-profit organization gives out books to kids, making reading accessible for everyone. For a complete list of where SSRF volunteers will be sharing a story, check out their Facebook page.
The big box book shop features a monthly story time event for children at their West Olympia location. Look for specific events just for kids, specifically on Saturday mornings.
When a friend of mine mentioned a story time at Cabela's, I had to check my hearing for a moment. Yes, I had heard correctly, the huge store located in Hawks Prairie, isn't just for outdoors gear shopping. It's also a great place for kids to enjoy a story. This family-friendly event is held on the first and third Saturday of each month. Many of the stories are outdoor themed and the event takes place in the camping department. All children are welcome from 11:30 a.m. – 12:30 p.m. to listen to volunteers from the South Sound Reading Foundation and have a free snack from Cascade Deli.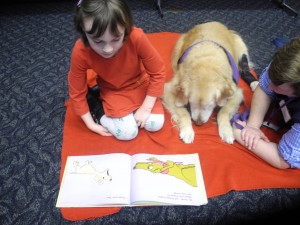 From infant to teens, children can benefit in so many ways from listening to stories. Whether you take advantage of the the library's many programs for all ages or listen to stories amongst tents, there are plenty of opportunities to dive into a book in Thurston County.
Thrifty Thurston highlights inexpensive family fun in Thurston County. The weekly series focuses on family-friendly activities throughout our community. If you have a suggestion for a post, send us a note at submit@thurstontalk.com. For more events and to learn what's happening in Olympia and the surrounding area, visit our complete event calendar.