Never before has it been easier to take a look back at Olympia's rich history than right now.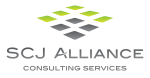 Brian Hovis recently completed a project combining current maps of Olympia with a series of historic maps that illustrate how the city has evolved over the years. The maps are all available online. Hovis used a series of Sanborn maps , which were originally developed as reference tools for the insurance industry.
"I think a lot of people don't realize how deep those Sanborn maps are in terms of presenting a lot of detail," said Deb Ross, Hovis' wife who helped him develop the overlay project.
Why Were Sanborn Maps Created?
Devastating fires were an inherent risk for landowners and city planners in urbanizing American cities in the 1800s. Many property owners sought the help of insurance companies to mitigate the risk of fires that could level city blocks or even entire cities. But, to get a grasp on what exactly was being insured, these companies needed an accurate measure of what really made up these cities.
A. Sanborn National Insurance Diagram Bureau began publishing fire insurance maps in the 1860s, creating a standard visual style for every map. The maps, using incredible detail, were also regularly updated to track the growth and evolution of urban areas. This standardization, detail and constant updating make these maps extremely valuable to historians like Hovis that want to understand how our communities have changed.
How Were the Maps Created?
Hovis had always had an interest in maps and specifically geographical information systems (GIS). "I usually take these things as a way to develop a skill. And, it also works out into something (Deb) wants done," Hovis added, jokingly. "The Sanborn maps were a way to to work with imagery."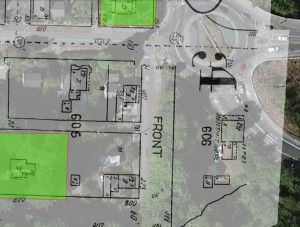 The difference between GIS and simple mapmaking is the ability to add various geographic data together. For example, in addition to the various Sanborn maps Hovis used, he also brought in data from the Olympia Historical Society's "Where Are We Now" feature, which adds deeper information on various locations around town.
"People can't just look at an old map and see what is going on on the ground today," Hovis said.
The most challenging part of the project was taking the sheets that made up the detailed portions of several versions of the Sanborn maps across decades and combining them together. Each sheet was hand drawn and only covered a block or so of the city. So, Hovis had to find where they intersected, building the city as he went along.
What Has Changed in Olympia?
The biggest changes you can see in the maps, Hovis and Ross point out, is the changing shoreline and the various changes in the nature of downtown. The shoreline of the city changed drastically from the 1870s to the 1940s, the era the maps cover, as the former mudflats were filled for development.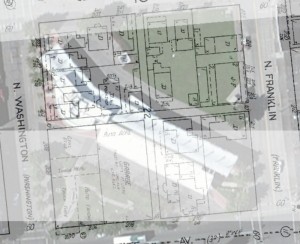 But, the use of downtown changed. "You don't have very many single family homes now. The core of downtown is either commercial or apartment buildings," Ross said.
Also, the portion of downtown north of State Street changed from a restricted district, where vices such as prostitution were once given free reign, to an industrial area through the 1940s.
Tools like this one show how historic information is becoming richer and more widespread, allowing more people to get an understanding of where they live. "It's like anything else – there's so much information. You have million and millions of filters instead of the few we once had," Ross said.
"If people want to use the information, that's great, but for me, the most fun comes in getting it out there," Hovis said.
To take a look at Brian Hovis' maps of Olympia, visit the Sanborn Overlays link within the olympiahistory.org website.