Makenzie Sylvester's been-there-done-that experience on the softball field is just the 9-1-1 rescue the Timberline High School's fastpitch team needs this season.
As the only senior on the team, her statistics – her steady bat and her roaming coverage in center field – aren't her only contributions. Sylvester, a starter and an all-league player since her freshman year, is also a vocal leader. Sylvester has a determined attitude and is the type of gusto this young team needs.
"She's a great leader," Timberline coach Charles Porche said. "She's definitely the general in center field. She tracks down a lot of balls and does a lot of good things."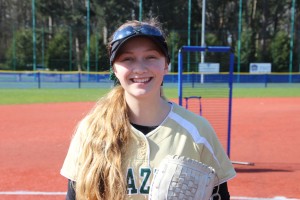 With her speed, her glove is where potential doubles often end up. To take advantage of that speed – she can run from home plate to first base in 2.8 seconds – Sylvester did a switcheroo at the plate. She switched from the right side to the left side of the plate last year, giving her an extra couple of steps to first base needed to beat out an infield grounder.
"It was a struggle," Sylvester said prior to a recent game. "But I love it now."
It didn't take her long to adjust. Last year, batting left handed for the first time, she started off the season red hot, batting over .500 as a slap hitter. She cooled off a little and still ended up batting about .350.
"Softball is one of those games that you can have your ups and downs," Porche said. "As you go through those 20 games, someone who stays hot for 20 games is phenomenal."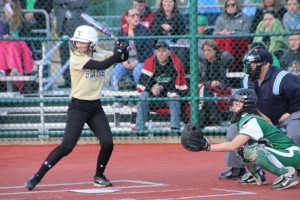 Sylvester's glove and bat has caught the attention of college recruits. She's accepted a scholarship to Cal State Stanislaus, a D-II college. Having a scholarship in hand and not having to worry about wowing recruiters with another sensational season, Sylvester can just enjoy her final season at Timberline and not fret.
"It's amazing," Sylvester said about having a scholarship offer in hand. "It feels good. Now, I'm just trying to get myself ready for the next level."
Since she was in grade school, Sylvester's ambition has been to play softball in college.
"I think my parents could see my passion," Sylvester said. "It was in elementary school that I realized I wanted to keep playing in college."
Teammate Brooklyn Taylor has shared the same ambition to play college softball. And like Sylvester, Taylor has accepted a scholarship to Stanislaus. They'll be teammates again in two years. And also like Sylvester, Taylor has that gutsy, determined attitude that's helped her achieve, maybe even over achieve.
At 5-foot-3, Taylor's size is anything but intimidating. The big, powering pitchers are usually 5'11", throwing 64-plus miles an hour. Taylor's secret – her fastball is 60 mph – is mechanics, arm speed and core strength.
"I am really tiny," Taylor said with a chuckle. "It just comes with doing a lot of leg and core work and definitely arm speed."
So, it's more about mechanics then bench press.
"I definitely don't bench," Taylor said. "I'll do some for high reps, but I don't try to max my bench. I just try to tone myself instead of trying to get big and bulky. I stretch a lot."
Another objective she might have is to avoid diving for grounders. At a recent practice, Taylor dove for a grounder and hit her head, giving her a concussion. As a result, she's missed a couple of games.
"I had a pretty bad headache," Taylor said when asked what her symptoms were. "And the lights were kind of bright."
Like Sylvester, Taylor is relieved to have her college scholarship in hand. It came down to picking between Western Washington and Stanislaus. Sylvester decision helped make her choice easier.
"I weighed the pros and cons," Taylor said. "Makenzie going there was definitely a benefit because we're best friends."
Timberline, which had six starters graduate off last year's team that placed fourth in league, starts three freshmen – Alix Peffly, Bailey Haddock and Hayden Nagel. For these players, it's a grow-up-in-a-hurry season. Of the 26 players on the varsity and junior varsity, 13 are freshmen.
"The three that start on varsity all play club ball," Porche said. "So they have a little more experience. That's helping them on varsity."
MacKenzie Shearon, another freshman, might be the smallest player on the team. But her coach said Shearon, who started as a designated hitter in a recent game against Tumwater, might have the biggest heart.
"She's a little scrapper with tons of energy, Porche said. "Over the next couple of years, she'll develop."
For the past four seasons, Porche has been living a dream. He coached his daughter, Megan, an all-league catcher. Now, Megan is playing at Holy Names University in California.
"She was our starting catcher almost from day one," Porche said. It was a moment he'll always cherish.