Clinic days at South Puget Sound Community College's dental clinic can make Carlos Maldonado anxious – but not for the reason you'd think. "You don't know what kind of procedures are going to come in," says the SPSCC student. "It sometimes breaks my heart if I don't get selected for the hardest procedures of the day. I want to do everything."
Hands-on training is a critical part of the clinic's curriculum, with students getting to participate or sit in on advanced procedures from the very start. "We don't wait until the end of the program," says Dr. Dana Larson, Program Director and Clinic Dentist. "It starts close to the beginning. As soon as they learn something in lecture and lab, it's immediately applied. Patients come to us for a full spectrum of procedures."
Since 1969, the clinic has been offering full service dentistry to the South Sound. "We hire dentists and hygienists from the community," explains Larson. "We have a separate supervisor that is in charge of instruction."
The arrangement benefits not only students and the college, but the patients who can receive quality treatment at a lower price than they might normally pay. "We provide dental services at a reduced fee – on average about 30% less than clinics in the community," says Larson. "We're better able to serve patients who have Medicaid or Apple Health and are unable to find a dentist who is accepting that."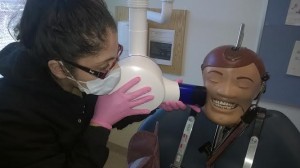 Bringing new customers on to the campus is a win for the college because it creates more exposure, Larson says. But clearly the biggest beneficiaries of the experiential approach to learning are the dental assisting students, 90% of whom are hired within three months of graduation. "The students can work in oral surgery, orthodontics, general practice, endodontics, periodontics, or prosthodontics," Larson explains. "The majority stay within the community."
Current student Tracy Meyer has discovered a passion for prosthodontics, also known as replacing missing teeth and other oral structures. After graduation, she hopes to get hired in a general practice that performs a wide variety of procedures. "My options are unlimited," she says. "Being in the program has really cemented my passion for the field of dentistry."
Meyer believes that the practical experience she's gained is highly beneficial for fine tuning skills. "Being able to work in the clinic gives you the ability to find your own way of doing things and build confidence. The opportunity to participate in more complicated procedures gives a more comprehensive picture of the field as a whole."
When her job was eliminated after 20 years in the field, Sonia Svach decided to go back to school and entered the dental assisting program. "I was impressed with all that they teach you," she says. "Once we graduate, we'll be able to run an actual dentist's office. Without the hands-on training, there's no way you could learn that program. No amount of books can teach you those life skills."
As an older student, she has a different perspective – and a piece of advice for recent high school graduates. "I think it's something that young people should look at. It's a one year program," she points out.  "You become registered, and you can actually graduate with a skill. If you decide to go back to school, you can still work in your field that you studied." As her own graduation nears, she's looking for a position as an office coordinator. "I'd like to deal with the paperwork part," she says. "It's necessary to know the terminology so you can effectively bill and process payments."
Carlos Maldonado already has a job waiting for him, though graduation is not until June. A local periodontist had several openings and Maldonado went to a chairside interview where he got to sit in on some of the procedures. "I got hired on," he says enthusiastically.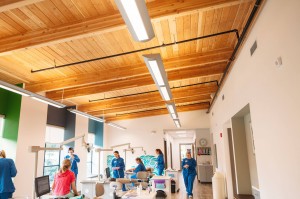 Since graduating in August 2015, Hillary Patton has become a dental assistant at Small to Tall Pediatric Dentistry. "It was so nice to get a job right out of school," she relates, adding that the length of the program – one year – was ideal, but intense. "Dr. Larson in an amazing dentist and a natural teacher.  When assisting her chair side, I learned so much," she says. "She not only taught us skills but explained why we were doing specific tasks."
One of her colleagues at Small to Tall Pediatric Dentistry is also an alumnus of the SPSCC Dental Assisting program. Taylor Moffat, who graduated in the same class, and is now working as a dental assistant. "I loved the program," she says. "The professors prepared us very well and I feel like we were very well trained to go out to our externships."
With the current class moving on in June, Dr. Larson has a message for the community. "We're always looking for new patients and dental assistant applicants."
To make an appointment in the dental clinic, call 360-596-5464. The dental clinic is open Monday through Friday from 7:50 a.m. – 12:00 p.m. with business office hours from 2:00 p.m. – 4:00 p.m.
To learn more about the Dental Assisting program, visit https://spscc.edu/areas/health-and-wellness/dent-deg. Watch this video of SPSCC's Dental Assisting program to learn even more.
Along with the dental clinic, SPSCC also invites the community to utilize the Automotive Shop and Catering programs. The students in the automotive program can diagnose and repair car problems. Students in the catering program are available to cater your next meal. Click on the hyperlinks to learn more about these instructional programs.
Sponsored