For women struggling with cancer, the debilitating effects of chemotherapy are bad enough. The pity of strangers, no matter how well-intentioned, can make matters worse. That's where Madelin White of Merle Norman Cosmetics, Wigs and Day Spa steps in.
For twenty-five years, White has been helping women deal with the ravages of the disease, constructing eyebrows where there are none and dispensing free advice through the Look Good, Feel Better program.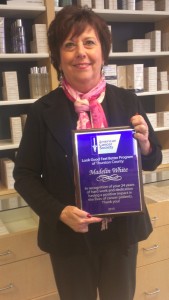 Recently, White was honored by The American Cancer Society for her years of service. Along the way, she learned a startling fact. "Apparently, I have helped more cancer patients in the state of Washington than anybody else," she says. "I'm very proud of that, and I feel honored."
Many women hear about her class through word of mouth. When they come in, she teaches them how to camouflage the effects of their treatment. "Sometimes people get a lot of redness in their face because of the chemo, or their skin gets yellow. I can show them how to make that disappear," she says.
The majority of patients want to learn how to make an authentic-looking eyebrow, she says. If their hair has come out, she teaches them how to wear scarves in different ways or wear wigs. "Everybody has their own comfort level with that," she says.
Such seemingly small actions can have a big impact. "If you get up in the morning and you have no hair, you have no eyelashes, and you have no eyebrows, and you walk out the door and somebody says, 'Oh you poor dear,' what does that do to you?" asks White. "It just sends you down, whereas if you take five minutes and put on a little lipstick, draw on some eyebrows, and put a little color on your face, then you walk out and someone says, "Oh, you look really good today." It can bring you right back up."
More important than feeling beautiful, she says, is for women to feel like they have some degree of power over the cancer. "It's a way of saying, 'You may think you've destroyed the way I look but I can look better.'"
White's motivation for helping is personal. She's lost most of her family to cancer, including two siblings, her grandfather, her father, and her cousin plus two of her closest friends. Now she hears from family members of her former students, sometimes years after the fact. "They remember that I helped their aunt, their mom, their sister," she says. "The person may not have made it, but in that difficult time I made them feel good."
"People wonder why I keep doing it," she continues.  "It's because I've been told so many times how much I've helped people. If I can still help, that's what I'm going to do."
You can also find cosmetics, hair styling, waxing, manicures, pedicures, and massage therapy as well as free make-overs and free mini-facials at Merle Norman.
To learn more, visit Merle Norman online or at 3925 – 8th Ave SE in Lacey.