Submitted by Paige Anderson for Stream Team
Meet Olympia resident Gina Jarasitis. She's been busy this past year doing her part to reduce storm water pollution.
In the spring of 2015 Gina decided to try a new approach to lawn care. Unhappy with the results she was getting from traditional lawn care practices, she made the switch to natural lawn care with help from Go Green Natural Lawn Care Program.
In addition to participating in the pilot lawn care program, Gina Volunteered three days of her time to film a 7-part Natural Lawn Care "how to" video series.
The new Natural Lawn Care video series, debuting this week, highlights how local residents can have a healthy lawn while protecting Puget Sound.
Here's why she made the switch to natural lawn care and why she recommends it to everyone.
Q: Why did you sign up for Go Green? 
Gina: I enjoy working outside and I like my yard to look nice. Over the years I've spent countless hours weeding, mowing and edging, but I could see that the health of my lawn was going downhill. The moss was thicker than ever and all the places I had weeded were filling with weeds again. It's a crisis that so many of us face, and we don't want to "put a bunch of chemicals on it" to fix the problem. The problem wasn't really with the moss or the weeds anyway; it was that I didn't understand my lawn at all. When I read about the Go Green program, I jumped at the chance to get some professional advice.
Q: What was your favorite part of the program?
Gina: My favorite part of the program was how it changed my relationship with my lawn. It was like having a rambunctious, out of control dog and taking it to obedience school. Eventually, instead of a nuisance, the dog is a joy. As I came to understand what my lawn needed and how to provide it, the moss and weeds went away and the grass filled in. I put in a lot of work, and all of the work paid off. I was happy with my lawn and my lawn was happy too!
It was extremely helpful that the program provided the guidelines for me to follow. It wasn't just a list of what to do; it was the interaction with experts and having them explain it in person so I could ask questions.
Q: Has your new knowledge about natural yard care also helped your neighbors?
Gina:  Next door neighbors, neighbors across the alley, and people walking past have gotten lawn tips from me since I started the Go Green program. In general, it probably just sounded like a long list of do this, then this, then this… but I think that a few very important key words will come to mind when they go to work on their lawns this spring:
One is slow release fertilizer. Most of us have never heard of it before. I learned that it is integral to giving the lawn the nutrients it needs while preventing extra nutrients from washing into Budd Inlet and feeding the algae blooms.
Another key word is aeration. Aeration is when holes are punched in your lawn and plugs of soil are removed. It allows air, water and nutrients to enter the soil and it reduces compaction. The lawn loves it.
I also expect that some of my neighbors will be "mowing high and letting it lie" (2" to 3" high and mulch mowing) and checking to be sure their mower blades are sharp. Mowing is something we all have to do anyway and there is a correct way to do it for a healthy lawn… so, why not?
Q: Why would you recommend natural lawn care to others?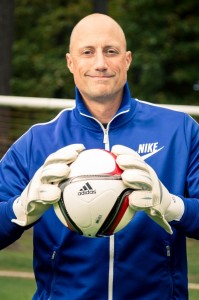 Gina:  There are two reasons. First of all, if you want a beautiful, healthy and green lawn, natural lawn care works. It's a holistic approach that involves understanding the ecosystem of the lawn. This gives you the power to work with nature, instead of fighting against it. Second, while lawns belong to individuals, the water that flows through them affects the environment that belongs to everyone. Natural lawn care can turn a lawn into a filter that absorbs and disperses clean water slowly.
Q: Why was it important to you to help out with making the videos?
Gina: I was very fortunate to participate in the Go Green program. It was empowering, and now I have the healthy lawn I always wanted. But what about the thousands of other interested people who haven't had the time or the opportunity to take part in a program? Natural lawn care know-how should be available to everyone. That is what I was thinking when I agreed to participate in a wonderful series of videos that covers the steps of natural lawn care for our region.
I am new to both natural lawn care and performing in front of a camera, but I discovered some very dedicated people behind the scenes working hard to benefit Puget Sound. These videos are the result of their vision and talents.
Q: Why will the videos be helpful to folks? 
Gina:  The thing that will make these videos helpful is the same thing that made the Go Green program helpful: a professional to provide information and a homeowner to ask questions. In the videos, Ladd, a real life lawn care professional, walks me through the steps of natural lawn care. As we go step by step, I ask the same questions that actually arose for me as I went through the Go Green program. In this way we provide the viewer with a better understanding of their lawn as well as the "know how" to try natural lawn care for themselves.
As if this wasn't enough to keep her busy, Gina also installed a rain garden in 2015, to reduce stormwater runoff from her property.
Q: Why did you install a rain garden on your property?
Gina: Building a rain garden in my yard was genius. I love the rain, but when it is torrential, I start worrying about my basement flooding. My rain garden is beautiful and functional, drawing away all the excess water from my lawn, driveway and roof. With all the rain we've had recently, I've had peace of mind knowing that the water is taken care of. At the same time, the rain garden is filtering out all the oil and chemicals that are running off impervious surfaces.
When I first considered putting in a rain garden, I was a little overwhelmed by the technical aspects. For those who enjoy measuring and planning, it may be no problem. For the more hands-on person, it is possible to minimize the technical aspects and use intuition and common sense. So, whatever your approach, if your yard has an appropriate spot for a rain garden, give it a try! There are so many benefits. Not only will you reduce the problems of excess storm water and filter it for a healthier environment, there are so many wonderful plants to choose from, the birds and animals love it, and it can replace a part of your lawn that isn't doing well.
About Go Green
Over 300 Thurston County households made the switch to natural lawn care with Go Green in 2014-2015. The grant funded pilot project is nearing completion and evaluation of the project is underway. Thurston County jurisdictions will use the information gleaned from participant responses to surveys (taken before during and after the program) to determine future options for natural lawn and yard care education programs.
In the meantime, if you are interested in learning more about natural lawn care, check out the Go Green Natural Lawn Care "How To" video series and watch Gina in action! To view the video series go to olympiawa.gov/naturalyardcare and visit Stream Team's website to learn more about Go Green Natural Lawn Care.