When you imagine fresh, locally sourced food at an affordable price, do you think . . . casino? Probably not.
Prepare for a surprise. Hawks Prairie Casino in Lacey offers all of the above plus a children's area, a regularly rotating selection of $4 meal specials, and much more. Since joining the staff in 2014, General Manager Dave Magee has added multiple incentives to bring in new customers and reward existing ones.
With happy hour prices at just $2 for draft beers and well drinks served from 3:00 to 6:00 p.m. and 11:00 to 1:00 a.m. daily, Magee also began offering the $4 meals and breakfast specials nine months ago as a way to bring in more customers. Hawks Prairie is an affordable option for a local customer base that includes restaurant workers, senior citizens, members of the military, millennials, and families. "We have quite a few customers who are bar and restaurant workers," Magee explains. "They get off at 10:00 p.m. so we do a happy hour for the late night crowd."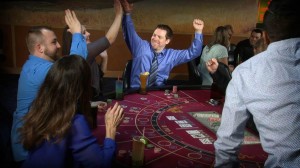 Every month a mailer goes out to let people know about the rotating menu deals, along with any promotions or special events like musical performances. "They're ever-changing so I have to keep getting the word out all the time," he says. "If this were a standalone restaurant, we probably wouldn't be able to do some of these things, but the restaurant is really a way to keep people coming back in to the casino."
Slot machines are not legal at Hawks Prairie Casino, but programs like the Mug Club and free pool on Tuesday nights help to bring in the younger crowd. Mug Club members get an extra two ounces of beer with every order.
Locally sourced food is also important to many customers and the restaurant is supplied by a local produce company. "When we do our menu, a lot of it is local," he says. "We'll have seasonal meals in the winter time, that's more like comfort food. In the summer we switch it over to lighter fare." The clientele also includes a sizable Asian population, and Magee makes sure that the menu reflects that fact. "We have four or five new items every month so our customers get a variety and we offer some things for our Asian customers."
The casino also draws an older crowd that appreciates a good game. "We have a lot of older people who are poker players," he says. "You'll get the twenty-somethings and the 85-year-olds playing poker together." Tournaments are affordable, ranging from $35 to $65 to enter with a $100 tournament on Wednesday nights, and can accommodate up to 40 people.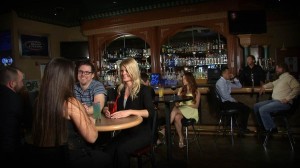 Currently, Hawks Prairie is the only casino in Thurston County offering off-track betting for horse racing. With ten table games and five poker tables, the club has given out over $300,000 in big jackpots in the past year. Their ten table games offer a great variety of the most popular games in the state and provide an atmosphere that is smoke free and has a great local feel. Magee says, "Not only do our employees become friends with our customers but our customer have become friends with each other."
Recognizing the large military presence in Puget Sound, the casino offers a twenty percent discount for active and retired military members, and happy hour prices all the time. Additionally, says Magee, they supply free food for several military events throughout the year.
"We like giving back to the community," he says.  "We've made significant donations to over 35 non-profit organizations over the years." Staff members have donated their time for many of them. "To help our local food bank, at least twice a year we give poker tournament players extra chips when they bring in two or three items of food, " says Magee. "We've been able to donate dozens of boxes of food to the local food bank every time we do this."
During the last NFL season, Magee brought in a 14-foot television screen with surround sound. The impact was immediate. Last year, few customers came in during games, but this year, "when the doors opened to the restaurant for the early games, there was a line outside there to get in. That really took off," he says. Once they added special game day menus and pricing, as well as score board giveaways, all 50 seats in the main area were usually full. Now they also show UFC fights on the big screen. If people come in and want to watch a particular sporting event they will put it on the big screen for them.
Magee says the food and happy hour specials are a huge draw. "The drink prices are the best I've ever seen in the Olympia area and we have really good food at reasonable prices. Almost everything is under $12. However the biggest draw is our great customer service, many of our employees have been here for over 10 years and we remember our customer's names and show them how much we appreciate them."
Because of its location tucked away behind the Best Western Hotel, people may not be aware of the casino, but the children's area makes a great place for families to enjoy an affordable meal. "A lot of people bring their children in," he says. "Some people might not think if they have a ten-year-old child that they could go to a casino for a great and affordable meal but they can here."
For more information about Hawks Prairie Casino, visit www.hawksprairiecasino.com or call 360-528-8888.
Sponsored